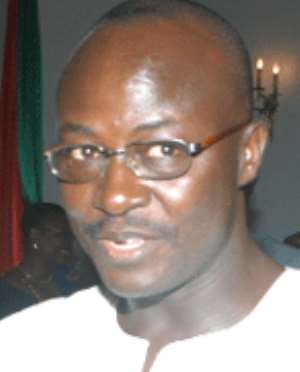 The New Patriotic Party (NPP) has declared its resolve to retain the Nkoranza North seat in the forthcoming parliamentary by-election in the area.
The General Secretary of the NPP, Nana Ohene-Ntow, told the Daily Graphic that as soon as the Electoral Commission (EC) announced the date for the by-election, the party would use all its political strategies it adopted to win the seat in the general elections in 2004 to retain the seat.
He said the NPP had not ceded any of its seat to the NDC in any by-election, and indicated that "the NPP will certainly retain the Nkoranza North seat".
The Nkoranza North seat became vacant following the resignation of the embattled Member of Parliament (MP) for the area, Mr Eric Amoateng, currently facing a drug trafficking charge in the United States of America (USA).
His absence generated into calls from several quarters, mainly by the largest opposition National Democratic Congress (NDC) for the seat to be declared vacant and for a by-election there to be conducted as the case had dragged on for more than a year.
Nana Ohene-Ntow discounted suggestion that the alleged involvement of Mr Amoateng in a drug trafficking case would affect the fortunes of the NPP and its candidate who would contest the seat at Nkoranza North Constituency.
"It is not the NPP that is on trial. I do not see how that will affect the candidate that we will select in the area," he stressed.
The NPP General Secretary conceded that the opposition NDC would make political capital of the Amoateng case, but said the NPP would do its best to counter that.
Nana Ohene-Ntow expressed dissatisfaction at the delay in the trial of Mr Amoateng, describing it as quite unfortunate.
He wondered why within two years into the arrest of Mr Amoateng, the courts in the USA had not wrapped up the case for a trial to begin.
Touching on the NDC MP's boycott of Parliament following the conviction and sentencing of MP for Keta, Mr Dan Abodakpi, Ohene Ntow said "it is quite unfortunate and totally irresponsible".
That, he said, was because "the NDC is putting undue pressure on the judicial system" and stressed that "it is an attempt to undermine the whole judicial and democratic system".
According to Nana Ohene-Ntow, there were occasions where NDC functionaries were tried and acquitted while others were jailed.
He, therefore, wondered why the NDC did not boycott Parliament in those instances.
He, therefore, urged the NDC MPs to rethink their decision and return to the House to continue with their work.
Story by Musah Yahaya Jafaru