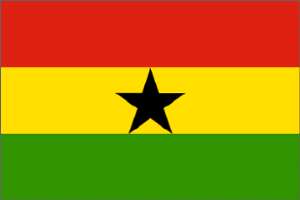 The National Planning Committee for Ghana's Independence Golden Jubilee celebrations has designated, February 15 as the Rally Round The Flag Day.
The highlight of the ceremony, according to the ministry, will take place at the Independence Square where the national flag will be hoisted.
The event marks the official countdown to the 50th birthday of the nation on March 6.
In line with activities marking the day, the Information and National Orientation Ministry has asked radio stations to play patriotic songs to galvanize the public to rally round the national flag during hoisting ceremonies and for the rest of the day.
It is being used as a day to invite and encourage Ghanaians to demonstrate their commitment and patriotism towards the nation.
"The flag is the one symbol that shows our nationhood. What we want to do is for all of us to rally round the flag and for us to whip up our patriotic feelings as a nation. We have come a long way from the pre independence or the pre colonial and then the independence time and now as a nation 50 years old we should be feeling proud enough about our achievements, having been able to successfully stay as one nation. There is enough for us to celebrate and one symbol that is a unifying force for all of us is the flag", says Mr. Kwamena Bartels, the sector Minister.