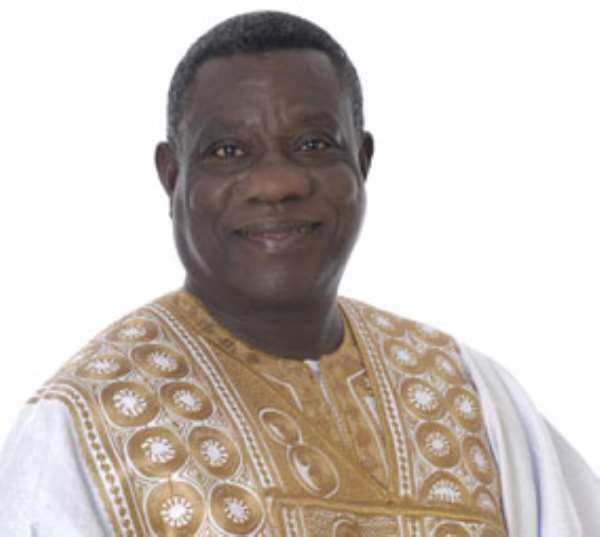 The presidential candidate of the National Democratic Congress (NDC), Professor John Evans Atta Mills on Wednesday said he did not go to the Castle for reconciliation when former UN Secretary General Kofi Annan visited there last month. "I went to the Castle to welcome back home an illustrious son of Ghana. I want to make this clear," he told a press conference organized by the NDC to read the party's version of the state of the nation address.
The NDC has been boycotting Parliament since February 6 in solidarity with Mr Dan Abodakpi, MP for Keta and Former Minister of Trade and Industry who has been jailed for 10 years by an Accra Fast Track High Court for causing financial loss to the state. Prof. Mills said if there was an initiative by the government on reconciliation, the NDC would examine it and if it were worth pursuing, the party would do so.
The NDC MPs were not in Parliament last Thursday when President John Agyekum Kufuor presented the State of the Nation address to Parliament. In his address, President Kufuor asked NDC MPs to reconsider their boycott of Parliament and return to the House to play their part to uphold the integrity of parliament. "I make this appeal in the light of the sincerity with which government is committed to the reconciliation process it has initiated for healing the wounds of the nation and to make for a fresh start." President Kufuor said it was a "sad day" the opposition NDC had chosen to absent themselves.
He said it was also sad that they had resorted to this course of action, apparently in reaction to the judgment of a duly constituted court of law. "It is even sadder that they seem to ignore the fact that the due process of going through appeals, as provided for by the Constitution, is yet to be exhausted in the particular case."
The Chairman of the NDC, Dr Kwabena Adjei described the sentence as a miscarriage of justice and said the New Patriotic Party (NPP) had not abandoned its declared agenda to use the Fast Track High Courts to destroy the NDC through the use of political trials to jail the party's leading members and functionaries.
The President again wished former UN Secretary General Kofi Annan a happy return home after his distinguished service for humanity. He said the election of Ghana to the Presidency of the African Union was an honour for the whole country and thanked well wishers for their kind sentiments.