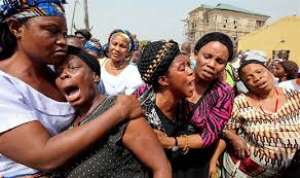 Armed gangs and organizations that regularly abduct, rob, kill, and rape children, youths and women are becoming more prevalent. ODIMEGWU ONWUMERE examines that since 2009, when Boko Haram began its campaign with the aim of destroying Nigeria's secular government and establishing an Islamic state, more than 35,000 people have died
Among the more than 100 individuals who perished when the boat capsized on the River Niger in the central region were women. They strived to guarantee their existence, but the ones who made it through credited the high number of women casualties during the capsizing of the vessel carrying approximately 300 individuals on June 12, 2023, in Patigi, Kwara State, to their love for their children.
As stated by Mohammed Alhassan, 22, who swam to the riverbank and shared his experience with news reporters, "the mothers remained behind to aid their children – some of whom had three or four children. There were also male parents who lost their lives while attempting to save their children."
The women were reportedly among the passengers who were coming back from a wedding and market on the River Niger.
This is one of the many harrowing experiences women undergo in Nigeria, without exemption. Either they are killed trying to save their children from avoidable deaths like the one they had in the river, or they are attacked by terrorists.
For example, attacks by the armed Islamist group Boko Haram, which started an uprising in 2009 and has displaced more than two million people from their homes, causing one of the worst humanitarian crises in the world with millions of people relying on aid, say analysts.
There are few signs that the conflict will end, according to specialists' reports.
"There have been over 2,400 verified incidents of grave violations against children, including forced recruitment, abductions, killing and maiming, affecting 6,800 children in northeast Nigeria alone since 2014," the United Nations Children's Fund (UNICEF) states."
It continued, "With over 1,500 schools closing and 910 being destroyed, access to education has been significantly impacted.
"Health services have been severely disrupted, and there are at least 1.8 million internally displaced persons (IDPs) in the northeastern states of Adamawa, Borno, and Yobe."
On 18 March 2023, the United Nations expressed great concern about the surge of aggression in certain regions of the country.
It was reported that in Zangon Kataf, a Local Government Area of Kaduna State, several innocent women and children were tragically killed.
The UN stated that the ruthless and irrational killings of young children, including a young boy who was abducted and murdered in an extremely brutal manner in the LGA, are particularly disturbing.
"This recent wave of violence occurred shortly after a series of violent incidents in which many people, including children, were killed in Kwande Local Government Area of Benue state," according to the UN report.
There was a similar incident where armed pastoralistslaunched a new assault on Iye Community, located in Uvir Council Ward of Guma Local Government Area in Benue State.
The attack resulted in the deaths of at least 18 individuals, including women and children, with numerous others suffering serious injuries.
Apart from Nigeria, the terrorists groups operating in the country have also carried out attacks in countries that are adjacent to them, killing and displacing civilians in Cameroon, Chad, and Niger.
To combat armed extremism, the African Union granted authorization to the regional Multinational Joint Task Force (MNJTF) in 2015, but that could not stop the insurgents. The Nigerian government designated these organizations as "terrorists" in accordance with the Terrorism Prevention Act in January 2022.
Some of their victims were reportedly beheaded, while others had their homes and food stores burned down, leaving behind charred remains.
From 2011 onwards, there has been a growing trend of violent confrontations between pastoral and agricultural communities in central and north-west Nigeria, primarily due to the competition for scarce resources.
According to Matthias Schmale, the UN Resident Coordinator for Nigeria, "The UN is in solidarity with the Nigerian government and its citizens in their pursuit to terminate this irrational violence, prosecute the offenders, and guarantee the safety and serenity of all inhabitants."
The report says the UN urges all factions to collaborate towards a peaceful conclusion to this brutality and honor the importance of human life.
"The UN is dedicated to supporting the Nigerian government and its people in their aspiration for a tranquil and prosperous country," the UN Resident Coordinator for Nigeria concludes.
But in 2016, the rival ISIL(ISIS)-allied ISWAP faction of Nigeria's Boko Haram organization became the predominant threat till date. And Fulani herdsmen attacks have resulted in the emergence of organized gangs and armed groups that engage in a variety of criminal activities, including cattle rustling, kidnapping, looting, murder, and sexual assault.
The groups (the rival ISIL (ISIS)-allied ISWAP faction of Nigeria's Boko Haram organization) have continued to carry out attacks despite ongoing militaryoperations, resulting in the spread of violence throughout portions of Cameroon, Chad, and Niger, which are neighboring countries.
The United Nations stated that more than "3.2 million individuals are displaced, with 5.3 million people food-insecure at crisis and emergency levels" in the Lake Chad region.
According to a report by the United Nations in 2021, a 12-year-long dispute in the northeast region of Nigeria has resulted in roughly 350,000 fatalities, both directly and indirectly.
"The vast majority of these casualties are children under five years old. Armed group violence is responsible for the deaths of over 90% of these children, equating to 170 deaths per day," UN Development Programme (UNDP) accounts.
As if that was not enough, in Anambra State, gunmen are said to have killed at least 12 people in May 2022, including a pregnant woman and her four children.
The police and the State Governor, Charles Soludo, responded to the killings without naming the victims. However, a community leader told the BBCthat gunmen attacked the pregnant woman and her children while they were returning home on a (motorcycle taxi) in the state's Orumba region.
Venting their anger, a large number of young people and women in Riyom, the Riyom Local Government Area (LGA) of Plateau state, recently blocked the busy Jos-Abuja highway to protest the unending killings by gunmen in their communities.
They believed that they were the primary target.
Mrs. Hannatu Rop, one of the protesters, stated that the community was sick of the killings and the inability of securitypersonnel to apprehend those responsible.
She demanded that the government intervene before the situation escalates into complete chaos.
Experts say that despite the urgent need to address the inadequate military protection for vulnerable communities, it is just as important to implement social programs and political changes to address the root causes of conflicts, such as poor governance, unethical behavior, poverty, youth unemployment, and environmental degradation.
"Local peace commissions like those in Adamawa, Kaduna, and Plateau states must be replicated in other areas at high risk of intercommunal tensions and early warning systems must be developed," says data.
The conjecture is that the removalof the Chief of Defense Staff, all Service Chiefs, the Inspector General of Police, IGP Usman Baba Alkali, and the Comptroller General of the Nigeria Customs Service, Col. Hameed Ali, by President Bola Tinubu on June 19, 2023, could lead to the accomplishment of the objective of combating insecurity in the country.
Odimegwu Onwumere is Director, Advocacy Network on Religious and Cultural Coexistence (ANORACC). He contributed this piece via: [email protected]