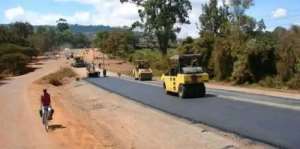 According to the NPP, Assin North has had it's fair share of the national cake
Assertions that the ruling New Patriotic Party government is currently undertaking developmental projects in Assin North following the upcoming by-election have been refuted.
Central Regional Communications Director of the NPP, Isaac Mensah disclosed told Ohene Amoako (the Flagbearer) on "The Seat" show on Net 2 TV that the NPP government initiated the many infrastructural projects since 2017 till date.
He revealed the NPP has since 2017 initiated a lot of projects in Assin North in the area of health, education, sanitation, electricity and telecommunication extensions, agriculture, security, child development and many other interventions.
Mr. Isaac Mensah said the people in the Constituency are willing and ready to vote for the NPP come June 27 to appreciate the good works of President Akufo-Addo and the NPP.
"The chiefs and people of Assin North are grateful to the government for the many projects initiated and are ready to give us their votes so the that we can continue to complete all the projects ongoing and even do more," the NPP Communicator added.
He called on voters to consider the development projects and vote massively for the NPP Candidate, Charles Opoku for his love and support to the constituency.
"Charles Opoku gave out his apartment free of charge to be used as temporal office of the then newly demarcated Assin North Constituency. Such a person will do more if given the mandate to serve as MP," Mr. Isaac Mensah retreated.