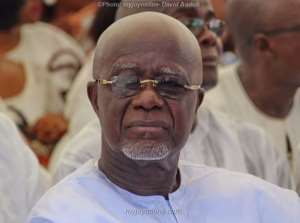 Hackman Owusu-Agyemang
Chairperson of the Council of Elders of the New Patriotic Party (NPP), Hackman Owusu-Agyemang has assured that the party will put every measure in place to ensure a successful presidential primaries.
Speaking to Joy FM, he said the flagbearer election will be won largely based on the popularity and competence of the candidate.
"I think the way I see it, it will be difficult to get a consensus candidate.
"I think it's a matter of popularity and competence," Hackman Owusu-Agyemang shared.
Being engaged further, the Chairperson of the NPP Council of Elders said the party will not joke with its unity.
"The unity of the NPP is of great importance to the Council of Elders, and we will ensure that this cohesion will not be compromised," Hackman Owusu-Agyemang.
Following the opening of the nomination form by the ruling party, several aspirants including Vice President Dr. Mahamudu Bawumia, Alan Kyerematen, Dr. Owusu Akoto Afriyie, and six other aspirants have picked forms to contest the flagbearer election.
The aspirants after the successful filing of the nomination form will embark on a massive campaign to convince delegates to vote for them in the primaries.
The NPP is expected to hold its primaries on November 4.