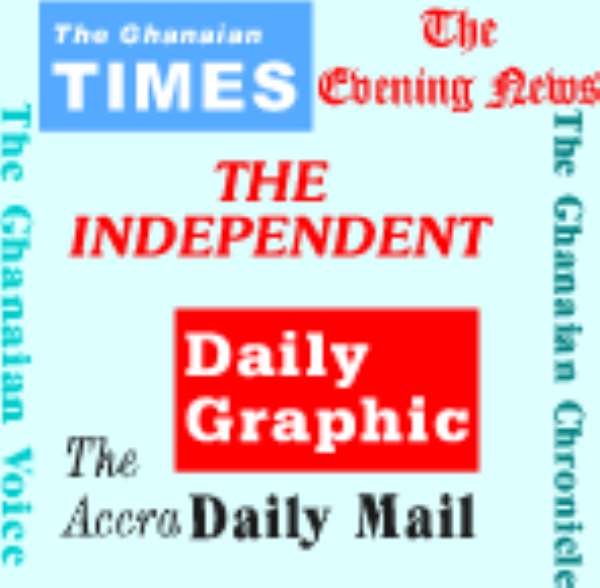 Summary of some major news items from today's papers.
DAILY GRAPHIC – THURSDAY, 8TH FEBRUARY, 2007
PTA TO BUILD SCHOOL BLOCK FOR SWESBUS – Pg. 43
Nana Kwaw Ponsi II, Chairman of Parent-Teacher Association of the Agona Swedru School of Business, opines that plans are underway to construct a ¢300-million six-classroom block to enhance learning in the school.
The chairman, who revealed this at the first meeting of the association at Agona Swedru said, the building will be financed out of members' annual contribution of ¢150,000 per member for a two-year period.
GHANAIAN TIMES – THURSDAY, 8TH FEBRUARY, 2007
1. PRESIDENT SEEKS SUPPORT FOR GUINEA WORM ERADICATION – Pg. 3
President J. A. Kufuor says government is stepping up effort to provide potable water to guinea worm endemic areas to help reduce the infection rate.
In addition, government is constantly campaigning to educate the people on the need to filter the water they drink.
The President says to this effect, a 40 million dollar water project is currently underway in the Northern Region to ensure adequate provision of portable water.
President Kufuor was speaking to Mr Jimmy Carter, former US President at the Castle, Osu.
Mr Carter is in the country to assess progress of the campaign in Ghana.
2. ASSEMBLY SPENDS ¢454.9M ON SCHOLARSHIP FOR STUDENTS – Pg. 14
Mr Kingsley Adjei-Manu, District Chief Executive of Bibiani-Anhwiaso-Bekwai in the Western Region, discloses that the assembly spent ¢454.9 million to sponsor students in secondary schools, nursing, teacher training colleges and other tertiary institutions in the country.
He told the Ghana News Agency in an interview at Bibiani that since its inauguration in 2002, the assembly has provided 100 school blocks in various communities to improve the standard of teaching and learning.