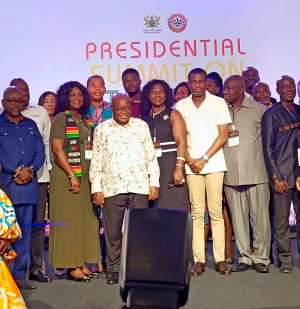 A two-day Presidential Summit on Tourism has opened in Ghana with a call on for sustainable tourism practices in communities to promote jobs, generate foreign exchange and stimulate infrastructure development.
The event which was under the theme: "Rethinking Tourism for Economic Growth and Job Creation" is being organised by the Ministry of Tourism, Arts and Culture (MOTAC) led by Dr Ibrahim Mohammed Awal and the Ghana Tourism Authority (GTA) led by Mr Akwasi Agyeman.
The event brought together tourism stakeholders including those from the private sector to explore new approaches to tourism that prioritize national development, job creation and sustainable tourism.
Ambassador Nancy Q Sam, Vice President of the Economic Community for the West African States (ECOWAS) Tourism Private Sector Confederation (COPITOUR) who was present at the event expressed gratitude to the President for opening his arms to support tourism and the private sector.
"We are thankful to the President under who spices this maiden event is taking place...It was a time of interaction with the President who opened his arms to support tourism and the private sector," she said.
She said the President's interest to support private-sector tourism was commendable and a step in the right direction to propel sustainable growth.
Speaking at the inaugural Presidential Summit on Tourism at the Peduase Lodge in the Eastern Region, President Akufo-Addo called on the citizenry to guard against actions that tend to derail the country's peaceful co-existence.
He stressed the need for stakeholders in the tourism industry to collaborate to make Ghana a world-class tourist destination. This, he said, can be achieved when there is peace and unity in the country.
The President tasked the panellists to focus on the 4ps, preservation, promotion, policy leadership, and partnership. He asked the Ministry of Tourism to ramp up promotional activities to achieve two million international arrivals by 2025, which will result in earnings of four billion dollars. He asked the stakeholders to join hands and position Ghana as a world-class tourist destination.
The Minister of Tourism, Arts and Culture, Dr Ibrahim Mohammed Awal, said the tourism industry has started showing signs of growth after the impact of COVID-19 affected it negatively.
Other participants present at the event were Heads of some Tourism institutions including the Presidents of the Tour Operators, Mrs Alisa Asamoah, the President of Hotels, Dr Nyameke as well as Country Directors of some Africa Airline such as Kenya Airways, Rwanda Airlines, Qatar Airways South Africa Airways among others.
Ghana's tourism has experienced steady growth over the last 5 years (2017-2022) reaching a pre-pandemic high of 1,130.307 international arrivals in 2019.
From 355,108 international arrivals in 2020, a total of 623,523 and 914,892 visitors were recorded in the country in 2021 and 2022 respectively.
The year 2023 is expected to record a 30% growth with sustained average visitor spend.