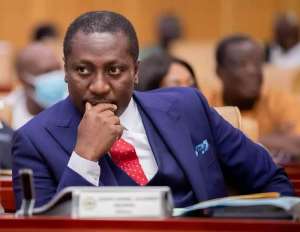 Deputy Majority Leader Alexander Afenyo-Markin has eulogised the Chief Justice Nominee, Gertrude Torkornoo.
He said she is an inspiration to women given her glorious legal career over the period.
During the vetting by the Appointments Committee of Parliament on Friday, May 26, Mr Afenyo-Markin who is also a lawmaker for Effutu said "You are an inspiration to women."
When asked what she had to say to women or young girls who are in self-doubt about their prospects in life? she answered: "I will ask them to be confident in themselves, to work on the areas that derate the self-doubts, to choose not to look down on themselves, every girl is entitled to sit with her brother."
Justice Gertrude Torkornoo, who hails from Winneba in the Central Region, if approved, will become the third female Chief Justice in the history of Ghana, after Justices Georgina Theodora Wood and Sophia Akuffo.
President Akufo-Addo had earlier urged the Speaker of Parliament, Alban Bagbin, to quickly facilitate the approval of Justice Gertrude Torkornoo for the position of Chief Justice.
The Chief Justice, Justice Kwasi Anin-Yeboah, on Wednesday, May 24, 2023 officially retired from active service.
Justice Anin-Yeboah served 21 years as a judge, serving three years as the Head of the Judiciary.
Following his retirement, Justice Jones Dotse, the most senior Justice on the Supreme Court bench, has assumed the position of Acting Chief Justice.
This is in accordance with Article 144 (6) of the 1992 Constitution, which stipulates that when the office of Chief Justice is vacant or the Chief Justice, for any reason is unable to perform the functions of his office, the most senior Justice of the Supreme Court shall act as the Chief Justice until a substantive Chief Justice is appointed.