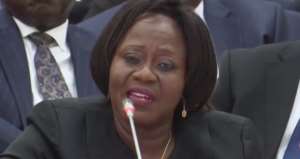 Justice Gertrude Torkornoo, the Chief Justice nominee, has cautioned the public against giving money to certain individuals with the intention of influencing judges.
She emphasized that such monies often end up in the pockets of those intermediaries.
During her vetting by the Appointments Committee of Parliament on Friday, May 26, Justice Torkornoo stated that it is impossible to bribe judges and urged the public to dismiss such perceptions.
She advised against providing money to individuals who claim they can influence judges, referring to them as "judicial predators."
"Don't give money to people to be taken to judges," she said, adding, "There is a whole market; we call it judicial predators. It's a whole predatory group around our function and that is something that we constantly try to address in our study of ethics both for judges and staff."
Justice Torkornoo also refuted claims that the Supreme Court is biased when delivering rulings on political cases.
She explained that a unanimous decision by the court indicates that the decision is based on the law and not influenced by bias.
"Whenever you encounter a unanimous decision, it tells you that the law is totally on the side of the position taken by the court, that every member of the court in fidelity to their judicial oath cannot take a different position, it tells you that, that is what the law is.
"So the only response is to learn from what the law says, it is not a matter of bias, it is a matter of the legal position."
-citinewsroom