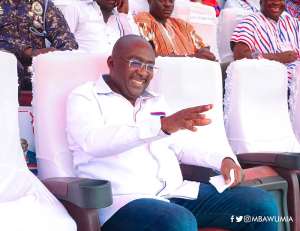 Vice President, Dr. Mahamudu Bawumia
A Fun Club made up of supporters of the New Patriotic Party (NPP) rooting for Dr. Mahamudu Bawumia to become the party's flagbearer has picked nomination forms on his behalf.
The club calling itself 'Bawumia Fun Club' on Friday, May 26, paid GHS50,000 to pick the nomination form for the Vice President.
Founder of the group, Ntim Jakari after picking the forms, stressed that they strongly believe Dr. Mahamudu Bawumia is the party's best bet to win the 2024 General Elections.
The group maintains that if the Vice President is elected NPP flagbearer, he will break the 8 for the party.

Meanwhile, another flagbearer hopeful of the NPP, Francis Addai-Nimoh has also picked forms today to contest the flagbearer election of the ruling party.
"Tomorrow, 26th May, following the Party's announcement of the opening of presidential nominations, I shall be picking up my nomination form at the Party's headquarters at 11am.
"I entreat all Party supporters, well-wishers, and sympathisers to join me in our quest to make history," he said in a post on Facebook on Thursday.
The nomination forms of the NPP will be available to interested persons until June 22.
The party will hold its flagbearer election on November 4.