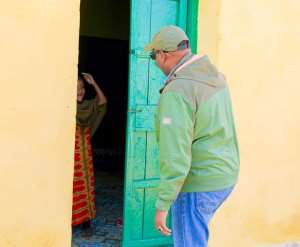 President Deni reaching out to the grassroot level, to request for citizens' votes in the upcoming local elections, which he had implemented in the region.
Prior to the 2022 presidential elections in Mogadishu, considerable focus had been directed toward the eligibility of Said Abdullahi Deni as a candidate. Deni, the prevailing president of the Puntland regional state, was subject to certain reservations regarding his capacity to administer justly and uphold democratic principles in a delicate nation.
As a matter of fact, I have authored an opinion piece published in Modernghana (bit.ly/3MzhIYp) during his candidacy, positing that Deni was inadequately prepared to oversee the preservation of Somalia's democratic structure. Additionally, I expounded on his inclination to penalize those that opposed his viewpoints and his limited comprehension of the nation's challenges.
It is worth noting that the aforementioned apprehensions I had regarding the administrative tenure of Deni in Puntland now seem to have been unwarranted. Deni's administration has indeed achieved several significant milestones since his entrenchment as the regional leader in 2019. Notably, the successful conduct of the 1p1v local polls fortify his noteworthy achievements, ushering a historic moment as the first-ever such election conducted within Somalia.
The aforementioned local elections in Puntland is considered to be a significant triumph for democratic pursuits in Somalia, and a welcome stride towards peaceful and credible democratic elections in the whole nation. Through unwavering efforts, Deni's administration ensured that the electoral process remained impartial, equitable, and honest. Critically, his administration displayed a robust sense of responsibility in taking action against malpractices that threatened the success of the electoral process. For instance, in Nugaal district, following the disruption of elections by locally based politicians, Deni's administration took firm remedial measures by postponing the said elections in these districts.
Reflecting upon the commendable strides that Deni's administration has made, one could deduce that earlier skepticism on his leadership abilities may have been ill-informed. Such pursuits such as his unwavering dedication towards upholding democratic values, ameliorating peace and stability while driving development agenda instill a positive outlook towards Somalia's future. With greater backing from the populace and the international community, there is a high potential for Deni to accomplish even more in advancing Puntland's course towards sustainable stability and prosperity and subsequent advancements for the entire nation.