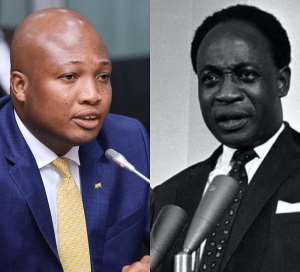 Member of Parliament (MP) for North Tongu Constituency, Samuel Okudzeto Ablakwa has shared his view on why Ghana and many African countries remain underdeveloped after several decades of independence.
In a post on Facebook on Thursday, May 25, the Ghanaian lawmaker argued that countries on the African continent have not reached their potential because of the neglect of the advise of the late Dr. Kwame Nkrumah on the need for the continent to unite.
Okudzeto Ablakwa is of the view that Ghana keeps running back to the IMF because of the lack of political will, intransigence and cluelessness.
"Exactly 60 years ago in Addis Ababa as guest to His Imperial Majesty, Haile Selassie, Osagyefo Kwame Nkrumah warned about what will become our predicament if we failed to establish the United African States.
"Thanks to intransigence, cluelessness and lack of genuine political will, many African countries such as Ghana have had to run to the IMF averagely every 3 years for economic bailouts as Nkrumah prophesied in that OAU formation address," Samuel Okudzeto Ablakwa shared today to mark the 2023 Africa Union Day.
The Ghanaian lawmaker is hoping that Ghana and the rest of the African continent will learn from the bitter and costly mistakes in the next 60 years.