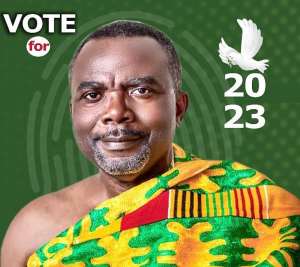 Independent Candidate in the Kumawu by-election and a former member of the New Patriotic Party (NPP), Nana Kwaku Duah has indicated that the election was neither free nor fair.
Speaking to Asaase Radio in an interview, he said the things he witnessed during the election is damaging to Ghana's democracy.
According to him, he is unhappy with the outcome of the election.
"To be honest with you, I am not happy with the outcome. I was expecting better showing than that. I will say that if this is the level that our democracy has come to, then we have a long way to go as a country.
"The election was not free and fair, there was vote buying on the election grounds, something I have not experienced before," Kwaku Duah said.
The defeated Independent Candidate continued, "And the presence of the V8s, ministers, the whole government machinery was in Kumawu yesterday, it wasn't right, in the sense that people were not free, people were just forced to vote this way with money."
At the end of Tuesday's by-election, the Parliamentary candidate of the New Patriotic Party (NPP), Ernest Anim Yeboah was declared MP-elect for Kumawu by the Electoral Commission.
He polled 70% of the votes to beat the NDCs candidate Kwasi Amankwaa and the two Independent Candidates.