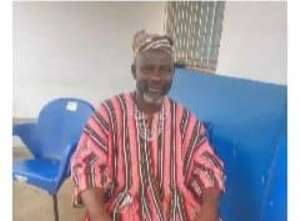 The National Vice chairman of the Ghana Meat Sellers & Cutters Association, Chief Ibrahim Wahab Tikuma has suggested that the number of businesses which are on the verge of collapse in the country can be revived if government set aside part of the IMF fund to support them directly.
Speaking to the Correspondent in an interview in reaction to the state of businesses in the country, especially the meat industry in the country, Chief Wahab commended government for systematically coming out with policies that could revamp the meat industry.
The butcher's vice president observed that the activities of butchers are gradually enhanced as a result of the change in the industry.
He linked some positives in their businesses to the exchange rates of the dollar and CFA which have slightly gone down — helping the butchers purchase cattle from neighboring countries like Burkina Faso and Mali among others.
Chief Wahab noted that though the butchers currently have few cattle to depend on to remain in business, with the early rains, the meat operators can buy more cattle at an affordable price from the five Northern Regions that are noted for cattle ranching.
He indicated that beef from Ghana's cattle is very good since the animals are fed naturally as compared to the foreign ones which are fed through technological methods mixed with chemicals.