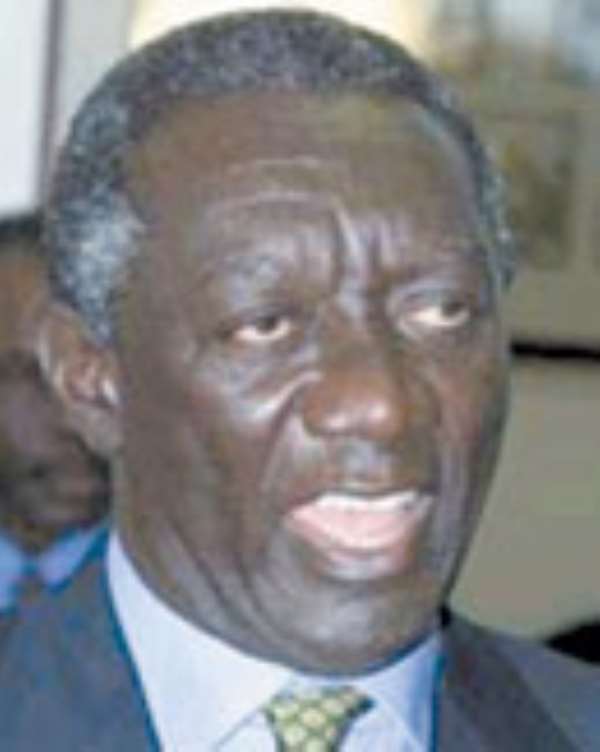 THE ELEC TION of his Excellency, President John Agyekum Kufuor as the Chairman of African Union comes as very refreshing to all Ghanaians. On behalf of the youth of Ghana and particularly NPP Youth Wing, I wish to say you deserve a gargantuan congratulation and applause.
As self-effacing as he is among his peers and with the excellent leadership he has exhibited since assuming the number one office in Ghana, his elevation to the status of Chairman of AU comes as no surprise. It should be acknowledged that not long after Mr. Kufuor had been elected as the President of Ghana, the Economic Community of West African States (ECOWAS) Heads of States also elected him to occupy the Chair of that dignified body and not only once, but served two terms.
The enormous successes that President Kufuor chalked as the Head of ECOWAS are there for all well-meaning personalities to see. For instance, the tactful and splendid approach with which he helped to bring peace and established Liberian's democratic governance dispensation was mind-boggling.
The La Cote d' Ivoire's political upheaval between President Laurent Gbagbo and the insurgents was calmly handled by our dear President.
The Organization of African Unity (OAD) metamorphosed into African Union in 2002 in South Africa when President Thabo Mbeki was made the first Chairman. The assumption of President Kufuor into the high office of AU at the time Ghana's illustrious son, former Secretary General, Busumuru Kofi Annan of United Nation (UN) has returned home is very historic.
The assumption to the Chairmanship of AU by President Kufuor in the eve of Ghana's Golden Jubilee anniversary celebration, is an indication that Ghana has been blessed with perfect things. The peace and tranquility, socio-economic stability and flourishing democracy that Ghana is enjoying will be meaningless unless it is filtered to the other countries in the African Continent. Ghana continues to shine and has assumed its lost glory of being the icon of Africa. What we should be mindful of is that Africa would be better off when we work in unison since in unity lies strength.
It should be noted, however, that the office is not meant for funfair hence all should offer the necessary support to enable the President to surmount the daunting tasks that bedeviled the continent most especially, the numerous conflicts such as the Sudan's Darfur and the Guinea political unrest; food insecurity; high incidence of poverty; and lack of cooperation. Ghana will leave monumental legacy when President Kufuor diligently executes his responsibilities in the one-year tenure. The achievement of these objectives would not be realized on a silver platter hence lets all support President Kufuor with prayers.
Long Live NPP, Long Live President Kufuor, Long Live Ghana and Long Live Africa.
John Boadu
National Youth Organizer,
New Patriotic Party