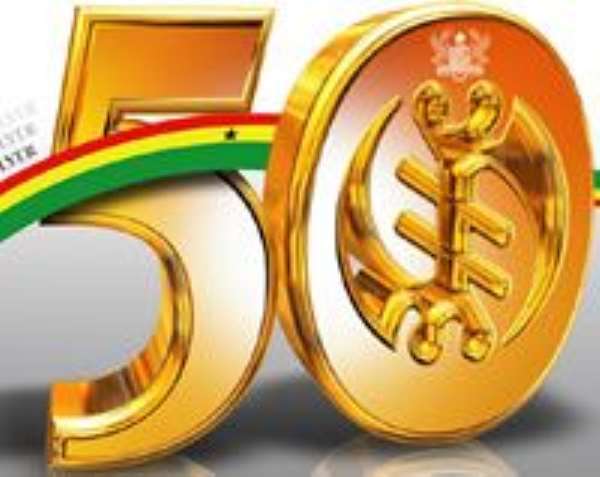 It would be 50 years in March for Ghana and the same for CAF this year since their birth and the first black African nation to attain independence has incorporated the 2006 Glo-CAF Awards in her celebrations.
As the nation marks events commemorating her 50th anniversary, the organizing committee of the [email protected] 50 secretariat has included the 2006 Glo-CAF Awards as part of their activities for the Golden Jubilee celebration of Ghana's status as an independent nation.
Ghana, the first black African nation to attain independence from the British colonial masters in 1957 has started marking her 50th anniversary celebrations with a series of programs that been planned, centred on twelve monthly themes for each month of the year-long celebration.
And Ghana, a proud footballing family would host the 2006 Glo-CAF Awards which significantly also marks the Confederation of African Football's 50th anniversary celebrations.
The CAF-Glo Awards has been listed as the first item in the month of March which significantly was the month Ghana attained her independence.
Dr. Charles Wereko-Brobby, Chairman of the [email protected] Organizing Committee expressed the committee's joy at incorporating the Glo-CAF Awards into their anniversary program, noting that "such an epoch event on the continent will add spice to our celebrations."
"It is a very special moment for Ghana and we are glad to work with Globacom and CAF with respect to this awards which is coming up at a very auspicious time for us in Ghana," [email protected] organizing committee boss said.
Globacom's Director of Promotions, Events & Sponsorship, Folu Aderibigbe gave the committee's assurance to collaborate with Globacom and CAF in making the awards a success.
Folu Aderibigbe thanked the Ghanaian government for their support and hospitality, adding "we feel very much at home here since we began project visits and we are very confident that the people of Ghana and Globacom have through this award began a relationship that will be mutually beneficial.
"Glo is an authentic African brand and it is not by accident that we are in Ghana after Nigeria."
The Glo-CAF awards comes off in Accra on March 1.