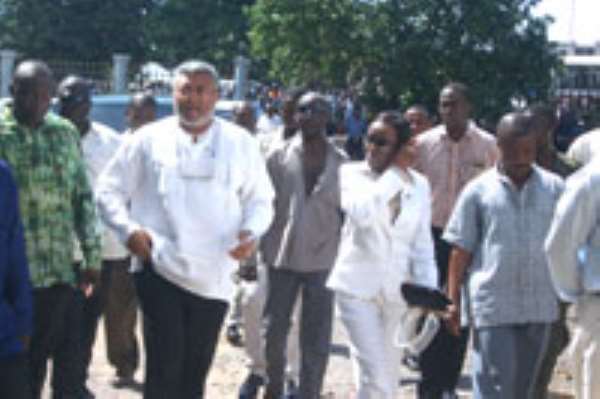 PRESIDENT JOHN Agyekum Kufuor and the ruling New Patriotic Party (NPP) government have been directed by the Almighty God of Israel to save the former first couple, Ex-President J. J. Rawlings and his wife, from any persecution and attendant affliction being suffered by them currently.
This is to ensure greater peace and political stability for this country in the ensuing years and also to help consolidate the democratic path Ghana has chosen as a way of electing leaders to lead the country.
According to the General Overseer of Soldiers of Christ Prayer Group, Apostle Dirl Airl King Marshal, God has revealed to him to caution President Kufuor to take good care of the former first couple and free them from their present predicament.
He cited the court cases involving the former first Lady as one of the many afflictions the Rawlingses have been subjected to, adding that vengeance is for the Lord Almighty and not man.
In a statement to The Chronicle, the man of God stated that he had also been directed to admonish the NPP government to accord the Rawlingses the needed courtesies and respect so as to enjoy their continued stay in power, adding that victory belongs to the Lord forever.
Apostle Marshal, who claimed to have received the prophecy on January 26, 2007 following his five-year fasting and prayers for peace and development for this country, said God would come and deliver the couples from their predicament, should the government fail to comply with the directives.
"I will come and save them (Mr. and Mrs. Rawlings) from their afflictions to show the world that I am the God Almighty," he echoed the prophetic message.
According to the Apostle, God told him to pass it on to President Kufuor that, "One good turn deserves another" and further drum home the message, "Do unto others what you want others to do for you."