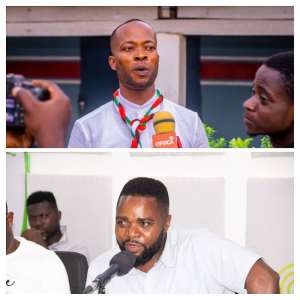 Constituency Youth Organiser Ahmed Agbenyadzi (top) and Akwapim North PC, John Evans Kumordzi (down)
The Akwapim North Young Wing of the National Democratic Congress (NDC) has commended Flagbearer elect, John Dramani Mahama and the Parliamentary candicate for Akwapim North, John Evans Kumordzi on their victories.
Speaking with the Constituency Youth Organiser Comrade Ahmed Agbenyadzi on Bryt FM, he revealed the youth wing was optimistic of victory come 2024 general elections.
He indicated that Ghanaians are fed with the poor governance of the Akufo-Addo led government and are therefore yearning for the return of former President Mr Mahama.
He again argued that, the NPP lawmaker for Akwapim North Nana Ama Dokua, has woefully failed on her mandate and needs to be kicked out for the NDC to take over the seat.
"Abro, the John & John pair is really going to work out for us in 2024 because Ghanaians are looking up for a change. Nana Addo and Bawumia have not been able to perform to expectation and are calling on the NDC to come and rescue the country from the current economic woes facing the country," Ahmed Agbenyadzi asserted.
On the issue of ensuring unity prevails after the internal primaries, the NDC youth leader emphasised the newly elected parliamentary candidate had began speaking with them to bring all on board for a united front in 2024.
He stated that the party will work together devoid of any misunderstanding to ensure the victory it is yearning for becomes a reality.
He used the opportunity to call on all party members and supporters to rise up and work hard towards the victory of the party to ensure it forms the next government in 2024.