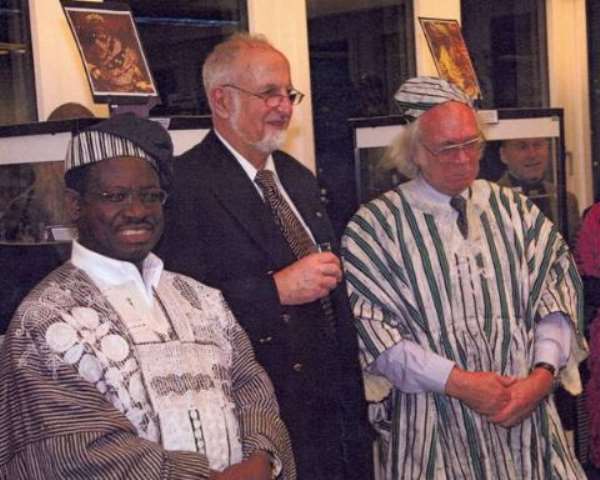 The year-long Ghana's 50th Independence anniversary celebrations in Switzerland, was inaugurated in Lucerne by Ghana's Ambassador to Switzerland, His Excellency Mr. Kwabena Baah-Duodu on Friday, 26th January, 2007 at a Philatelist Exhibition organised in collaboration with a former Swiss Ambassador to Ghana and a staunch Philatelist, Dr. Hans Peter Strauch.
The Stamps Exhibition which showcases stamps from the Gold Coast to present day Ghana will last until February 9th, 2007. Also on display are artefacts and photographs from the period of Ghana's independence to the present.
The event, which was attended by Ghanaians and Swiss nationals from all walks of life, especially philatelists and members of the Ex Ghana-Swiss Society, an organisation of Swiss nationals with previous working experience in Ghana, was very colourful. Also present were diplomats from other Embassies based in Berne, the Swiss capital.
Addressing the gathering, Ambassador Baah-Duodu, who is also Ghana's Permanent Representative to the UN Office in Geneva, stated that Ghana had come a long way during her 50 years of nationhood and stressed that by virtue of the present prudent policies and good governance of the administration of His Excellency President John Agyekum Kufuor, the country was being acknowledged with appreciation and goodwill worldwide.
He expressed the hope that through the Stamps and Artefacts Exhibition, the Swiss and other nationals, including Ghanaians in the host country, would learn more about Ghana, her history, people and culture. He informed his audience that those who wanted to know Africa really well should experience Ghana first. He urged them to visit Ghana to experience its extraordinary warmth and hospitality. He urged Philatelists in Switzerland to continue to show interest in Ghanaian stamps.
He also encouraged those present to actively participate in the programme of activities scheduled to mark Ghana's Golden Jubilee anniversary in Switzerland. They would, he said, thereby know the unique and numerous opportunities existing for investment, and tourism in Ghana.
Later Dr. Hans Peter Strauch took participants through the different types of stamps displayed and the significance of the Exhibition in Ghana / Swiss relations, which according to him, showed the level of affection Switzerland had for Ghana.