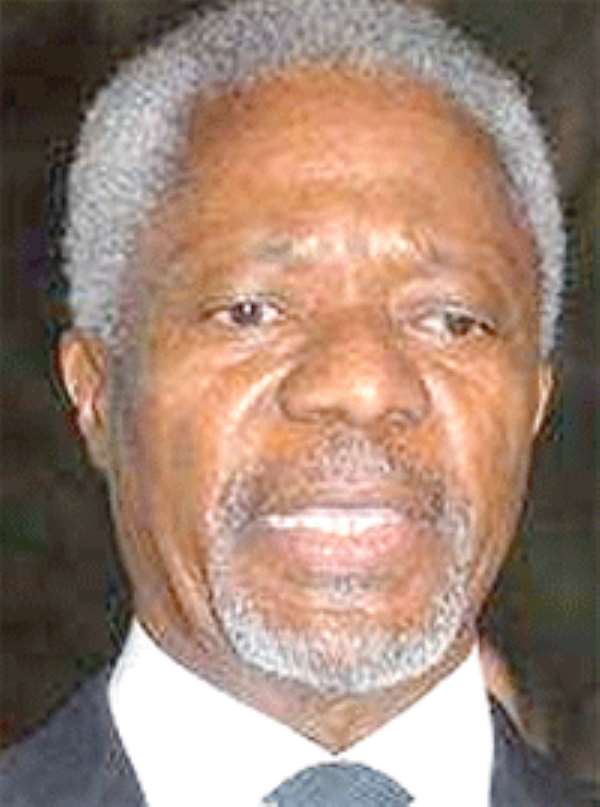 The hero's work has come full circle and Ghanaians are currently basking in the glory of Kofi Annan's landmark global achievements after 10 years in the stressful UN Secretary General's job.
This was clearly manifested when Ghana's diplomat arrived in the country in the night of Thursday last week, to a heart-warming and rousing welcome.
The leadership of the country and hundreds of people of all ages waving the red, gold and green with black star flag of Ghana met him at the airport.
Throughout the past week, it has been a glamorous public show for Ghana's celebrated diplomat, who had been kept busy with working itinerary involving meeting the leadership of the country and delivering a high profile Golden Jubilee inaugural lecture.
For once, it looked as if the success story of Kofi Annan had brought the whole country together and forged a strong bond of nationalism among Ghanaians.
However, in all of this celebration was this feeling of anxiety, as I observed our various political leaders try to fraternise with one another in a show of public gesture, all specifically aimed at giving Annan a deserving welcome back home.
Indeed, I kept asking myself whether this huge phenomenal national experience was not going to be a distant mirage and whether Ghana was genuinely and truly ready to listen to their illustrious son for long.
The more I listened to Kofi Annan speak, the further I wondered whether we as a country were mature enough and had the right political structures to understand and implement the virtues he was espousing.
Former President Jerry John Rawlings did not mince words when he enjoined Annan to speak out when he saw anything wrong within the Ghanaian political scene.
The former Vice President and Presidential candidate of the National Democratic Congress, Prof. John Evans Atta Mills, said that he was only at the seat of Government, the Castle, to give his support in welcoming the heroic son of Ghana.
President John Agyekum Kufuor was also glad to see Prof Atta Mills at the Castle six years after a change in the rulership of the country and expressed the conviction that the visit would continue to help bridge the divided political gap.
Annan had earlier tried to reach all sides of the political divide and had stressed the need for peace and security, more development and rule of law as the fundamental underpinnings of rapid development.
Even though it is not clear how long Kofi Annan would stay at home, as the 67-year-old has kept his retirement plans pretty quiet since stepping down in December last year, one thing is clear and that is Annan has set the right tone for the goodwill of this country.
He comes back home with rich experience and exposure which, when effectively utilised, can assist in the speedy development of the country.
As the euphoria of Annan's homecoming simmers down and Ghanaians come to terms with his iconic achievements, it is my hope that Kofi Annan stays for long to share this vast knowledge of his distinguished career at the UN.
Indeed, it is not just a mere coincidence that Ghana is celebrating its Golden jubilee at a time of his retirement. Coming back home at this period, in my view, is one of the best things that could happen to this country in recent moments.
Immediately, Ghana stands a huge chance of benefiting enormously from his diverse experiences and having a unique opportunity of starting on a clean slate to work at developing the country along the lines of what Kofi Annan himself insists on as the foundations or the pillars of progress, namely peace and security, development, and the rule of law.
Ghanaians must harness Annan's prowess to combat the challenges confronting the development of the country.
While Ghanaians endeavour to give Annan some space to enjoy his retirement and family life, I also hope that he would remain neutral in Ghanaian politics and advise only when it becomes necessary and where people seek his opinion on issues.
I am aware some Ghanaians want him to enter politics and even have a shot at succeeding President John Kufuor. One thing that is certain is that overseeing the affairs of the global world is quite different from the grass roots democracy practised in Ghana.
The rules of the political game here is dirty and he should, therefore, not rush into Ghana politics.Some of us would have wished that he remains the global stateman that he is now in which case his views would be highly respected anywhere he goes.
His vast experience in managing and leading the United Nations could be brought to bear on the running of Ghana for rapid socio-economic development.
Ghana, no doubt, is ready for socio-economic take-off and he is one of the best persons to take us to the next level. The world has taken so much from Annan and it is now time Ghana also benefited from him.
It is good news Annan has moved to Ghana, his homeland, and it is expected that he would put into practice the knowledge he garnered at the UN. He has been a credit to Ghana in particular and to Africa in general.
His international stature will bring more credibility to Ghana and Africa, to be taken seriously by the rest of the world.
Annan could help to build the AU into a credible and functional institution that is relevant to Africa's present needs and has enough clout to engage the rest of the world on Africa's behalf.
Kofi Annan should use Ghana as a rallying point to focus on bringing African countries together for a rapid accelerated development.
I think he should work with the Africa Union body to promote good governance and economic activities in Africa as well as help Africa become a united continent.
Annan must be aware that there are a group of people who are very envious of his status and that he must be very careful now that he is back home.
Some of us are very proud of him but still there may be some elements among us who would wish him the opposite, especially when he becomes partisan helping one cause or another.
Good Luck, Mr Kofi Atta Annan.
Asks Kobby Asmah