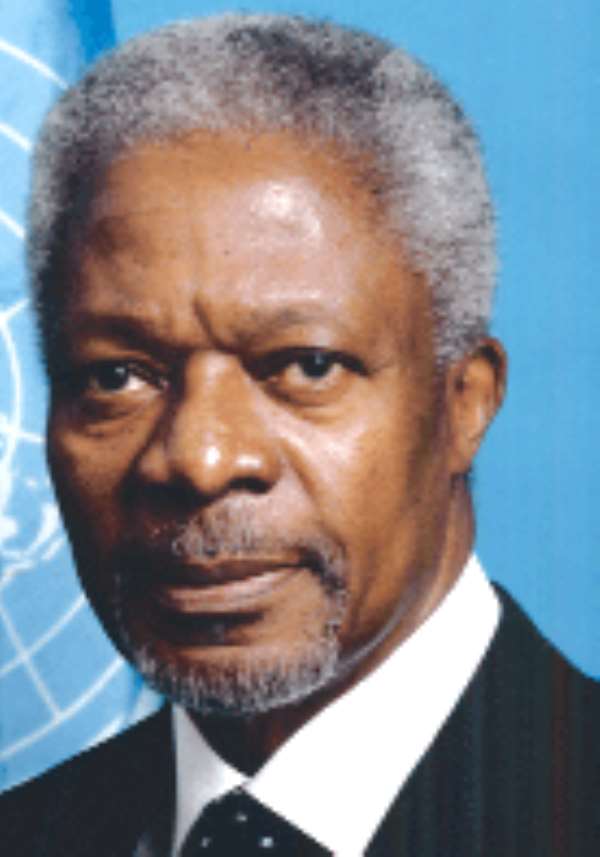 The Immediate Past Secretary-General of the United Nations, Mr Kofi Annan, has challenged Africans to work together to move the continent forward.
He said, however, that this period was an exciting one to be an African and indicated that Africans had much work to do.
"I look forward to joining hands with all my fellow citizens to lift our nation and our great continent towards the bright future which can and must be ours," Mr Annan said yesterday when he delivered the Inaugural Golden Jubilee Lecture at the Accra International Conference Centre.
The topic for the lecture was, "Championing Africa's Renaissance: Peace, Development and Human Rights".
Before the lecture, Mr Annan inspected a Guard of Honour mounted by the Ghana Navy. Mr Annan, whose speech was greeted with a standing ovation, said when he joined the UN in 1962, barely five years after Ghana's independence, African hopes for self-determination seemed on the cusp of a promising new future.
He said finally Africans were to be masters of their own destiny and were to lead themselves, not only to freedom but progress and prosperity as well.
"Yet it did not quite unfold that way. Newly independent African states inherited artificial borders, often with social groupings rent asunder by straight lines pencilled on a map.
Suddenly, African ethnic groups and communities with shared histories often found themselves on opposite sides of new and arbitrary borders," he observed.
Mr Annan said in response to that development, post-colonial governments sought national unity through the centralisation of political and economic power, employing vestigial colonial laws and institutions to stifle and suppress pluralism.
He said independent Africa stumbled in other ways, pointing out that its development policy emphasised the production of primary commodities for export, often at the expense of adequate support for subsistence agriculture.
"We became subjects to the whims of the market without having any say in its functioning," Mr Annan remarked.
"Over succeeding decades, our continent devolved into a land of big men and broken dreams.
Some African liberators became oppressors and/or looters. Many conflicts festered and economies stagnated," he added.
The former UN Chief said in spite of the need for more security, the demand for better development and the rising cry for human rights and the rule of law, Africa was sidelined in the world economy and also became the scene of some of the most protracted and brutal conflicts.
He, nonetheless, expressed the believe that a new era was in prospect which, he said, was Africa's third wave to succeed earlier swells of decolonisation and the ensuring years of wars and conflict.
"I call on Africa to make this third wave one of enduring development, peace and respect for human rights," he charged.
Mr Annan observed that although the third wave had not unfolded as forcefully as expected in the ensuing decade, "inexorably and unstoppably it has continued to flow across this rich, vast and varied continent".
He said the bedrock of Africa's renaissance was real and measurable progress in peace and security, adding that although about half of the world's armed conflicts and about three-quarters of the UN's peacekeepers were in Africa, compared to a decade ago there were now fewer inter-state conflicts than there used to be and many civil wars had ended.
Mr Annan cited Burundi, Angola, Ethiopia-Eritrea, Liberia, Mozambique, Sierra Leone and southern Sudan as some of the countries whose wars had ended and urged the political leaders of Cote d'Ivoire to put their nation first, settle their differences and bring peace to that country.
He cautioned against being under any illusion because in far too many reaches of the continent people were still exposed to brutal conflicts fought with small but deadly weapons.
"Peace may be spreading on the continent but a continent at peace — which is what we want — remains an idea in search of realisation.
Most Africans realise today that they need to work together to pacify the continent and I often say that no one invests in a bad neighbourhood.
And when a continent is seen by many as a continent at war, we do scare away foreign partners and investors," he noted.
Mr Annan said as the conflicts subsided, African governments had turned to the essential task of economic and social development because, ultimately, peace required more than the mere absence of war, adding that it was sustainable only if accompanied by real progress in development, the second pillar of African renaissance.
He said today most African economies were better run, with inflation averaging eight per cent a year, while 27 African countries were projected to grow more than five per cent in terms of GDP this year.
"Direct investment inflows to African economies have increased by more than 200 per cent in the past five years. Exports are also rising, with some countries experiencing double-digit export growth," he said.
The former UN Chief further observed that there had been spectacular advances on debt relief, as well as encouraging initiatives on aid and investment, indicating that Africa had also recorded encouraging progress on some of the benchmarks of the Millennium Development Goals (MDGs).
He also mentioned other areas of achievement such as HIV/AIDS, maternal mortality, safe drinking water and universal primary education.
Mr Annan said one thing was clear — that Africa's development disproved the distorted and widespread image of the continent as a sea of undifferentiated poverty — but cautioned that the magnitude of the continent's needs left little room for complacency.
He said despite the fact that Africa had the largest growth rate of mobile phone subscribers in the world (500 per cent between 1998 and 2003), about 50 per cent of Africans were yet to make or receive a phone call.
"And the global Green Revolution has bypassed African farmers. Ours is the only continent which cannot feed itself today, much less ensure food security for its people," he stated.
Mr Annan stressed the need for Africa to ensure peace and continuous development, as well as embrace human rights and the rule of law in order to progress.
He expressed delight that Ghana was at the forefront of Africa's promising future, stressing that what the continent needed now was to keep building on the progress which had been achieved so far.
To do so, Mr Annan said, Africa ought to build a comprehensive strategy for the future to give equal weight and attention to the three pillars of security, development and human rights.
He used the opportunity to thank Ghanaians for the solid support and consistent encouragement they gave him during his tenure as the head of the UN.
The Chairman of the Council of State, Professor Daniel Adzei-Bekoe, who presided, recalled the events leading to 50 years of statehood and noted that the period had been characterised by achievements, despair, cautious optimism, high expectations and renewed hope.
He said the country was celebrating its Golden Jubilee with high hopes and great optimism for the future.
Professor Adzei-Bekoe was hopeful that with the right attitude, unity of purpose and hard work, Ghanaians could achieve the expectations of their forebears for a better Ghana.
The Co-ordinator of the Golden Jubilee Lectures, Professor Kwame Gyekye, said a series of lectures would be organised throughout the year to articulate the visions and aspirations of Ghanaians and invited the people to participate in them.
Story by Nehemia Owusu Achiaw & Kofi Yeboah