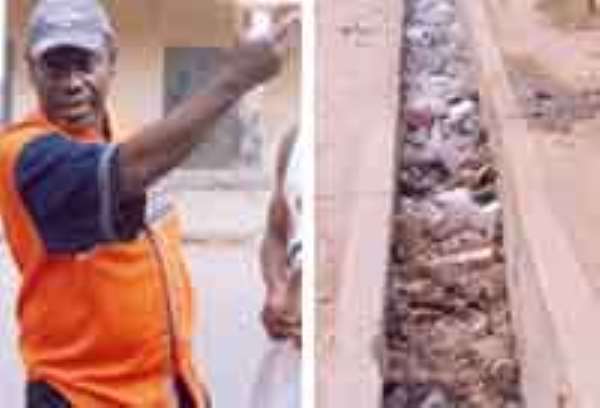 ON THE very day that the Accra Metropolitan Assembly embarked on a massive clean-up exercise as part of events leading to the 50th independence anniversary celebration of the country, The Chronicle' lenses captured this gutter in front of the Children's Hospital in Accra.
This intern, who was on a beat, could not stand the stench from the gutter, which had been left unattended for no apparent reason.
Upon enquiries, it became evident that the gutter was left out of the clean-up exercise and as usual, the situation has ignited the usual Ghanaian blame-game.
Whilst residents of the area are apportioning blame on the Assembly Member, Mr. George Quaye Armah, he in turn is putting the blame at the doorstep of the residents since, according to him, cannot be at everywhere at the same time.
For that matter, he said "it is incumbent on the residents to keep the area clean because when there is an outbreak of any disease, they are likely to suffer the consequence of keeping their environments unclean".
He wondered why several people had the misconception that "it is the responsibility of only an Assemblyman to see to the cleanliness of an area".
For him, it is high time people change this perception and start cleaning their areas.
It is the paper's view that as Ghana turns 50 years this year, each and every citizen does his best to complement the efforts of government in ridding the country of the increasing levels of filth.