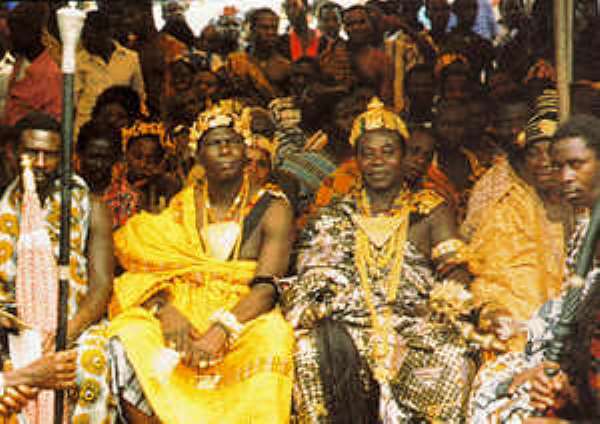 The Ministry of Chieftaincy and Culture has announced an ambitious programme to resolve all outstanding chieftaincy problems to promote national peace and cohesion to facilitate development.
The programme includes the touring of all traditional areas in the 10 regions by officials of the Ministry, enumerate all outstanding conflicts and invite the disputing parties to Accra for mediation.
To achieve these objectives, the Sector Minister, Mr Sampson Kwaku Boafo on Thursday held a meeting with the traditional authorities from Ejura in the Ashanti Region and Akim Oda in the Eastern Region to resolve long standing disputes in the two traditional areas. "Gone were the days when chiefs took up arms to fight. Now a chief must spearhead development, " he said; stressing: "Chieftaincy disputes must not overshadow the country's Golden Jubilee celebrations." Mr Boafo commended the Ejurahene (Chief) Nana Kwaku Sarfo II, for using his over 50 years of occupying the stool for promoting peace and stability and giving out land for farming and development projects. He said Ejura was one town that had played host to a number of settlers with varied ethnic backgrounds. This he said had promoted integration and co-existence.
Mr Boafo said Ejura as a food basket for the country had been listed to benefit from the multi-million-dollar Millennium Challenge Account facility from the US to boost agro-business in the area. The Octogenarian Chief, Nana Sarfo appealed to the Minister to call to order a lady whose identity was not disclosed for allegedly fanning chieftaincy conflicts in his traditional area. He said the people in the area were counting on the wisdom of Asantehene Otumfuo Osei Tutu II and the Ministry to mediate in the conflict.
Mr Enoch Osei Mensah, Protocol Officer to the Vice President and a Royal from Ejura, appealed to Mr Boafo to facilitate the process of reconciliation in order to nip in the bud any incident that would mar the steady development of the traditional area. Mr Boafo also met with two factions from the Agona Royal Family at Akim Oda who are engulfed in a seven-year old chieftaincy problem. Nana Akua Asantewah II, Paramount Queen Mother of Akyem Kotoku Traditional Area and Abusuapanin Kofi Yeboah, Head of the Asona Royal Family, who represented the Frimpong Manso and Attafuah factions, respectively, pledged to bury the hatchet to allow peace and stability to prevail in the Traditional Area.
Mr Boafo, who later met with the group behind closed doors, said the chieftaincy institution was very important for socio-economic development hence the need to resolve the dispute and to put the past behind them to create the enabling environment for development in the Kotoku area for the benefit of posterity. 25 Jan. 07