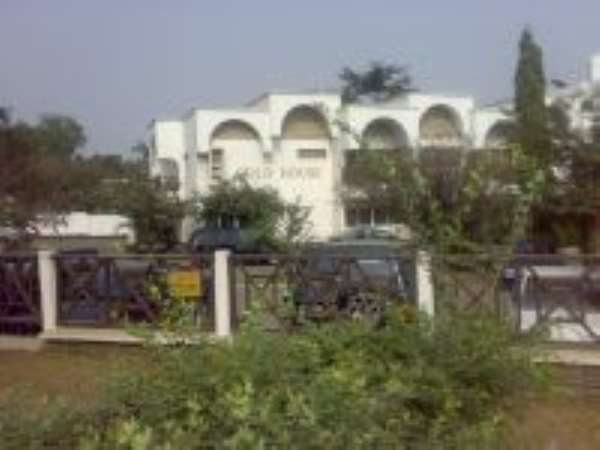 You wonder why Accra has no skyline of note, such as the skyscrapers of Abuja, Nairobi, Lusaka, Johannesburg, Tokyo or Chicago? It is partly because those who can afford to put them up, like real estate developers, insurance companies and pension fund managers, are not encouraged by the stiff competition from the residential areas.
Embassies, gold companies, international organisations and multinational companies operating in Ghana are competing with families for accommodation in areas originally earmarked for residential purposes. The result of this is exorbitant rents, coupled with illegal advance payment demands.
"Having offices in residential areas doesn't help," quipped Kwaku Osei-Bimpong, the Head of Public Affairs for the Social Security and National Insurance Trust. The Statesman sought his comment on the challenges involved with providing rentals in Ghana.
"If you visit Airport, East Legon, Cantonments, or Labone you"ll see, almost every street has signs indicating offices located in houses."
For example, Anglogold Ashanti, Goldfields, UNESCO, and UNHCR can be located at Airport Residential Area, with Newmont occupying about three houses in East Legon.
SSNIT is the leader in the challenging effort to develop a skyline for Accra, with its Premier Towers, Ridge Tower, Heritage Tower and Trust Towers, all located in commercial areas of the capital.
Mr Osei-Bimpong argues that mixing residences with businesses puts constraints on the institutions like SSNIT that are trying to develop office accommodation in a commercial core in downtown Accra, which he believes can also create a better skyline for the capital city.
He acknowledges that it is difficult to coax businesses out of residential areas, however, given the comforts provided in those areas. The demand for commercial space in residential areas seems to make them all the more attractive for home buyers at the same time.
The result is that the price of accommodation, be it for rent or ownership, is driven ever higher, making living in these areas possible only for the rich, and preventing the development of mixed income neighbourhoods.
At the same time, according to Mr Osei-Bimpong, this situation "makes it impossible to develop the environment and structures needed for a proper commercial district."
He urged that the Metropolitan Assembly needs to improve zoning laws and enforcement to keep residential and commercial districts separate.
The SSNIT experience
SSNIT learned the perils of operating in Ghana's residential rental industry first-hand. Up until the late 1990s, it was the proud owner of more than 7,000 flats across every region of Ghana, which were made available at 'social' rents, making them affordable for low-income earners and providing an essential housing service.
"But we were increasingly unable to charge what we call economic rents," Mr Osei-Bimpong said, meaning that they were unable to recoup the high costs of home insurance, property costs, and maintenance.
Even at the reduced rates, many tenants, most of whom were working class, could not afford the rent. As a result, SSNIT began to sell its residential holdings to the tenants who could afford to buy and had interest, and it has reduced its stock in this trade by 80 percent.
Mr Osei-Bimpong explained this action by saying that SSNIT's number one priority is to earn a good return for its social security fund, to care for its 58,000 pensioners and many other stakeholders.
"We were not making decent returns from residential flats," he said. "To protect the social security fund the best option at that point was the sale of the flats."
The remaining 1,400 or so flats are still in operation with rents gradually increasing to better recoup costs. "But it is still below market value," he said, with rent ranging from ¢200,000 to ¢400,000 per month for a 2-bedroom flat.
SSNIT has also become involved in building and selling new houses, which provide a better return on investment than rentals. For example, plots of land are being developed in Dunkonah in the Greater Accra Region for estate development.
"We see our involvement in the housing sector not only as a social benefit," Mr Osei-Bimpong explained. "We invest to support the social security scheme."
Toward this end, SSNIT has become more involved with providing rental office space than residential accommodation. SSNIT is the owner of several business towers including Premier Towers, Ridge Tower, and Heritage Tower, among others. This business provides considerably better and more reliable returns.
Osei-Bimpong feels that providing commercial rentals is also an important means of developing Ghana, because a proper commercial district would further drive the economy, increase GDP growth, and put more people into a position to afford adequate housing.
He added that the cost of financing the purchase of a house is simply too great to keep rents low enough for the average Ghanaian. Landlords need to recoup their expensive loan fees. "The market for a decent house is not there," he said. "There is now a yawning demand for good accommodation; people must have the means to rent or buy."
However, he is optimistic that as GDP grows, capital will also pick up, providing the impetus to create affordable housing.
Reaching the informal sector
SSNIT is now traversing the world between businesses prosperous enough to rent in modern towers and the urban poor struggling to survive on the unsteady income provided by the informal sector, which Mr Osei-Bimpong describes collectively as "a very big market with enormous resources."
SSNIT is now running a pilot retirement scheme that he says 10,000 people from the informal sector have already signed onto. The key, he said, is "having a mechanism for reaching out."
He added that although this sector is not well organised, SSNIT is working to develop systems that mobilise its members and helps them meet their short-term economic goals as well as their long-term retirement needs.
"We are working closely with them and other financial institutions," he said. "We conduct outreach by meeting with their associations and individuals and giving them education about the benefits of our fund."
SSNIT hopes to extend its core service of replacing part of the income lost due to old age, invalidity, or loss of life, to one of the poorest and most vulnerable sectors of Ghana.