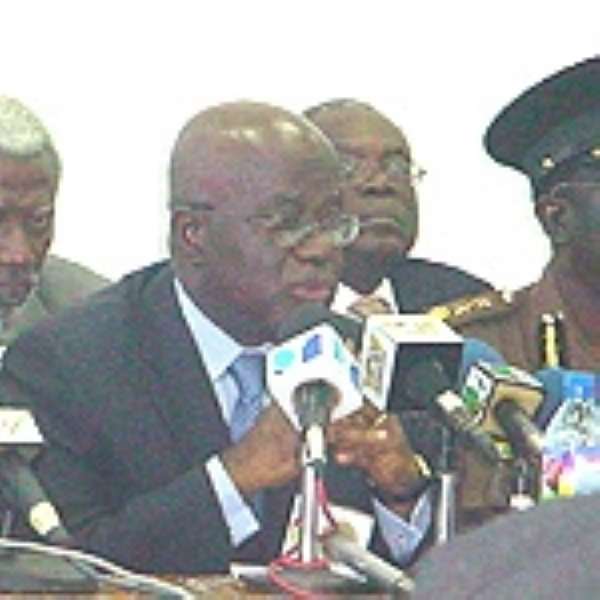 Hackman Owusu-Agyemang, Minister for Water Resources, Works & Housing believes the Golden Jubilee Anniversary gives Ghanaians an opportunity to consider making some psycho-cultural adjustments, including changing the National Anthem.
"I think we should consider replacing the Ghanaian National Anthem with one that is more culturally reflective, stimulating in its patriotic call to duty to self and country and simply easier to inspire."
He is quoted by the Statesman newspaper as saying, "Fortunately for us the great composer Ephraim Amu has bequeathed the nation with one that is perfect, 'Yen ara y'asase ni' which we can all sing in our various native languages as Ghanaians."
If the Minister's proposal gains favour, it will make Ghana the only West African country with its national anthem in a local language.
According to the Statesman, in Sub-Saharan Africa only nine countries (Rwanda, Ethiopia, Burundi, Botswana, Kenya, Lesotho, Niger, South Africa and Zimbabwe) do not sing the national anthems in the language of the colonial 'masters.'
In proposing 'Yen ara y'sase ni' (This is our own land) as the new anthem, the Minister for Water Resources, Works & Housing argues that already Ephraim Amu's composition has become the unofficial anthem of Ghana, pointing to President John Agyekum Kufuor's decision in 2003 to make it the theme of his State of the Nation address:
"It's like the second national anthem. My view is that we should consider making it the main anthem. It's a truer reflection of who we are as Ghanaians."
Mr Owusu-Agyemang, whose friends have dubbed him the Action Man, believes the recital of a national anthem in a language indigenous to one carries more significance and symbolism of cultural identity than in a received language, like English.
He points out that in Germany, Das Lie Der Deutschen (Song of the Germans) is naturally sung in German, in France La Marseillaise is sung in French.
Other examples include the Kenyan national anthem in Swahili, Ee Mungu Nguvu Yetu (Oh God of All Creation), although English is also an official language in the East African country; and the South African national anthem which was altered after Freedom in 1994 to Nkosi Sikelel Africa & Die Stem van Suid Afrika (God Bless Africa & The Call of South Africa combined) to better reflect the multi-ethnic mix of the post-apartheid South Africa.
Even Wales, which is part of the United Kingdom, has its own distinct national anthem, Hen Wlad Fy Nhadau (Old Land of My Fathers).
The Minister explained that his suggestion, if carried, could have the "psychological weight and value to help rekindle and redefine in a more meaningful and contemporary way, that sense of positive nationalism which the country lost through those old and painful years of betrayed leadership."