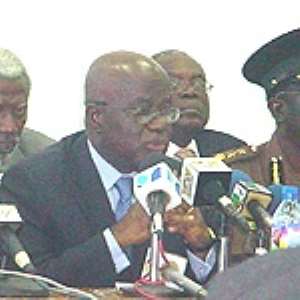 Government is to reduce the cost of housing from the current figure of about 13,000 dollars per unit to as low as 6,000 dollars per unit, Mr. Hackman Owusu-Agyemang, Minister of Water Resources, Works and Housing on Tuesday said.
He said no time frame had been fixed to achieve this but that every effort would be marshalled to make it a reality within the shortest possible time.
Mr. Owusu-Agyemang said this when he inaugurated a nine-member Board of Directors of the revitalized State Housing Company Limited under the Chairmanship of Mr. Yaw Nyame in Accra.
He said a major obstacle in the housing sector was the growing cost of construction but indicated that the Government would not relent even if it had to import materials at less cost to enable young couples acquire houses.
"Government would explore all avenues to reduce the cost of housing and we are not oblivious that locals must be protected but some justifications must be offered for the ever-increasing cost of building materials especially cement.
"Otherwise we would have to import cement."
Mr Owusu-Agyemang said at present the shortage of housing stood at 500,000 units and noted that the Government was on course to meeting its promises.
"We are trying desperately to make sure that we break the back of the housing problem for Ghanaian workers to own houses," he said.
Mr Owusu-Agyeman urged all agencies and organization in the sector to come on board to assist in the business of making housing affordable.
Charging the SHCL he said: "Roll-up your sleeves and make sure you deliver because the patience of Ghanaians is now at a crescendo and will not sit to wait any longer."
The Company, which used to be State Housing Corporation, would be expected to lead the crusade of making housing affordable to the ordinary Ghanaian and also work towards injecting some level of healthy competition in the sector.
The rest of the members of the Board are, Professor Kwesi Yankah; Mr Yaw Tweneboah; Madam Obaa Yaa Afrifa; Mr Ofosu Asamoah; Brigadier Samuel K. Baafi; Nii Ayitey Boafo; Mr Yahaya Yakubu and Mr Sarpong Mensah.