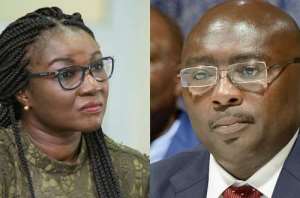 The bid by Vice President Dr. Mahamadu Bawumia to succeed Nana Akufo-Addo in 2024 is being resisted by persons within and without his party, following frequent accusations of false promises and economic mismanagement.
Joyce Bawa Mogtari, an aide to ex-President John Mahama, launched a scathing attack on Bawumia's presidential ambitions, citing the VP's alleged failure to deliver on key pledges.
"Dear young people. Know this: elections are also about credibility and credible leadership.
"Today we remember the false promises made by Dr. Mahamadu Bawumia to move Ghana forward and away from taxation to physical production and the fact that taxation is a lazyway of fixing the economy!" Mogtari said in a tweet on Friday, March 31.
Mogtari's criticism highlights the Vice President's promise to drastically reduce taxes, move Ghana's economy from taxation to production and transform the country into a industrial and technological hub.
Serving as Vice President for over six years, many critics, particularly members of the opposition NDC say Bawumia has failed to make fulfil the numerous promises.