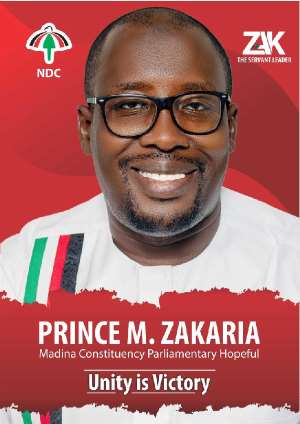 The National Democratic Congress (NDC) Madina Constituency has referred one of its members, Prince Moses Zakaria to the Disciplinary committee of the party.
The Madina Parliamentary candidate hopeful has been suspended for six months for displaying gross misconduct, and physically abusing the Constituency chairman, among other things.
On Sunday, February 26, the suspended party member is said to have unlawfully interfered with the ward elections being conducted at the Nkwantanang West ward under the supervision of the constituency chairman, treasurer, and other party functionaries.
He is accused of leading thugs to both verbally and physically assaulted the constituency chairman, the treasurer and threatened other party functionaries who were supervising the ward elections by carrying out their lawful duty as executives.
He unlawfully disrupted a lawful assembly of party members, a conduct that amounts to a disturbance of lawful assembly contrary to section 204 of the Criminal Offences Act, 1960, Act 29.
It was also discovered that he was only registered or captured into the branch register during the 2022 reorganization prior to the branch election under bizarre circumstances with the forging of a lawful document such as the branch register.
It is these offenses that have landed him in trouble.
"The Executive Committee of the Madina Constituency are by this letter suspending you for six (6) months in accordance with article 46(1) of the Party's Constitution and hereby refer you to the Disciplinary committee of the party.
"By this suspension, you cannot hold yourself out as a member or lawfully take part in any party activity at the branch level, ward level, constituency, regional or national levels of the party," part of a letter from the NDC Madina Constituency signed its secretary Abdul Razak Hussein said.
The suspended Prince Zakria has additionally been directed to hand over any party document in his possession including the forged membership card.