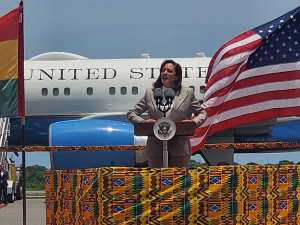 Kamala Harris, Vice President of the United States of America, is expected to arrive at the Kotoka International Airport, Accra, this morning.
She will be spending three days in Ghana, and two nights in Tanzania before stopping over for another night in Zambia, as her country deepens relations with Africa.
The visit by Harris, who is travelling with her husband, Doug Emhoff, will focus on economic development, climate change, and food security.
The highlight of her trip to Ghana will be the delivery of a speech at the Black Star Square on Tuesday, March 28.
Harris will also visit a recording studio, meet with female entrepreneurs in Accra and visit the Cape Coast Castle, Central Region, Ghana, where enslaved Africans were once loaded onto ships for America.
GNA