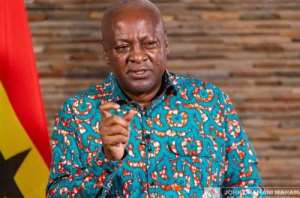 Former President John Dramani Mahama has dismissed claims that he sees himself as the saviour of Ghana.
He said he does not have those spiritual connotations, but rather, has garnered enough experience as a former President.
Mahama made these comments in a recent interview with TV3, where he discussed his plans for the country if he is re-elected as President.
According to the former President, he is the right person to lead Ghana out of its current economic turmoil, thanks to the experience he has gained from working in various levels of leadership.
"I wouldn't say that I'm the hope, like a messiah. I don't have those spiritual connotations. But Ghana has given me much, it has given me a lot of experience. I have worked in various levels of leadership and I think that at this time of crisis, I should put the experience I have garnered, at the service of my nation," he said.
He believes that he can put this experience to good use and work towards putting Ghana back on its feet.
Mahama also emphasized the importance of unity in getting Ghana back on track, calling on all Ghanaians to work together towards this goal. He vowed to bring every Ghanaian on board if he is elected, unlike the current government which he accused of failing to include all stakeholders in its decision-making.
Mahama's comments come as Ghana gears up for presidential elections later next year. His party, the National Democratic Congress (NDC), is hoping to unseat the ruling NPP and return the NDC to power.