Police Launch Investigations Into Suhum Killings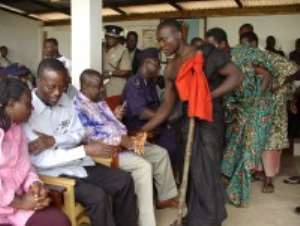 A team of police investigators has been sent to Suhum in the Eastern Region to unravel the mysterious murders that have hit the area.
Five persons have been killed in the last three months and this has put fear in the people as the perpetrators of the heinous crime have not yet been arrested.
As a result the youth in the town went on rampage on Wednesday, blocked the Accra – Kumasi highway, as well as the Suhum town roads with lorry tyres and set them ablaze to register their protest against the deaths.
The Minister of the Interior, Albert Kan-Dapaah, who visited Suhum yesterday in the company of the Inspector-General of Police, Patrick Acheampong, Director – General of CID, David Asante Apeatu and the Eastern Regional Minister, Yaw Barimah, asked the people not to take the law into their own hands and disturb the peace of the area.
'People who try to cause anarchy will be dealt with according to law,' he warned.
He said the government would continue to ensure the security of the people and called for co-operation with the police to find a lasting solution to the killings.
Mr. Kan-Dapaah gave the assurance that the culprits would soon be found.
He said street lights would be provided in the communities.
The Chief of Suhum, Osabarima Ayeh Kofi I, called on the Suhum – Kraboa – Coaltar District Assembly to revive the neigbourhood watch committee to ensure security.
He said that the action of the youth was to draw the attention of the government to the killings and appealed to the police to release those in custody.
He, however, blamed them for overstepping their bounds and said that people should not read politics into what happened.
The Regional Minister appealed to the people to exercise restraint and allow the police to do their work saying, 'You are all not safe if you do not co-operate with the police to arrest these criminals.'