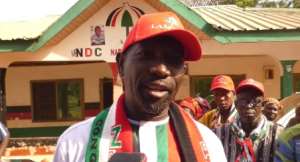 An aspiring National Democratic Congress (NDC) Parliamentary candidate in the Nabdam Constituency Lawyer Lamtiig Apanga has said when given the opportunity as Nabdam Member of Parliament, he will make sure an office is constructed to address the challenges of the people.
Lawyer Lamtiig who appeared unhappy with Dr. Nawaane's current practice of turning his house into an official party office has vowed to abolish it by making an office available for such purposes.
Addressing the press on Monday, March 20, 2023, after filing his parliamentary nomination form at the party office in Nangode, Lawyer Lamtiig said: "We must not continue using the house of the Member of Parliament as an office. We must have an office for the Member of Parliament so that he will come to the office and attend to business and not to go to his house and sit there."
According to him, when given the nod he will focus on Girl-child education, youth empowerment and the health sector. According to him, these are critical areas he would address to improve the well-being of the people.
"I want to assure my people, that by the grace of God and with the support from the people we have seen today, come the 13th of May people of Nabdam especially delegates will choose me as the parliamentary candidate for NDC and by the grace of God in 2024, we will join hands to win the election and to develop Ghana in general," he said
This is the first time Lawyer Lamtiig Apanga is officially contesting the Parliamentary seat in Nabdam, even though in the 2020 elections, he wanted to contest but later changed his mind to support the current MP Dr. Mark Nawaane to win the general elections.
Party supporters and delegates came out in their numbers to accompany him to file his nomination forms from his community, Gani to the party office in Nangode.