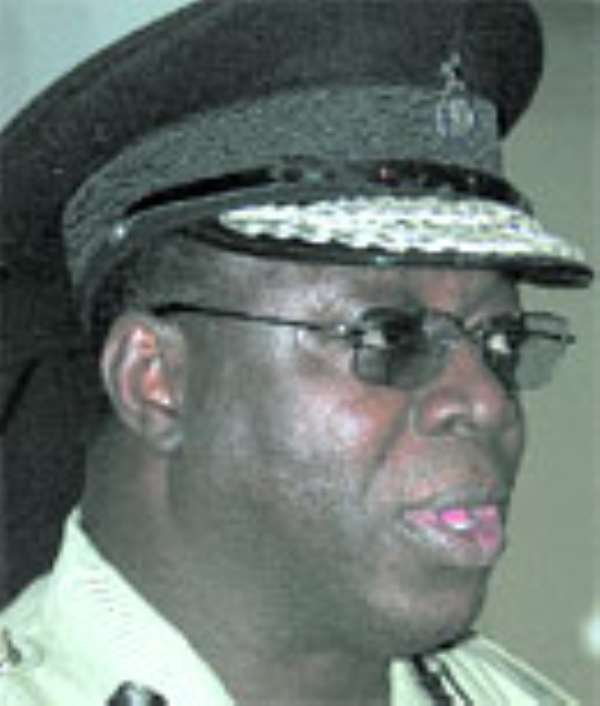 THE YOUTH in Suhum Township yesterday went on a serious rampage, burning lorry tyres, destroying facilities in the town and clashing with the Police.
Their action was in reaction to the alleged serial killings that the area has been experiencing for about three weeks now.
Chronicle investigations revealed that yesterday at about 10am, the Police had a call that a man aged about 30 years and almost 80 per cent decomposed, was found around the Suhum Secondary Technical School field, lying face down in a stream.
There were blood stains about five metres away from where the body was lying, which gave a strong suspicion that there was a struggle between the dead person and his killers.
Information gathered indicated that the dead person was mentally unsound and often seen around the area by people in the vicinity.
The death of the middle-aged man brings to five, the total number of people found to have been killed under mysterious circumstances in the town, over the last three weeks.
The situation angered the youth of the town who have accused the District Chief Executive (DCE), Mr. Michael Kofi Mensah and the security agencies in the town of being insensitive to the alleged serial killings.
The angry youth wanted to attack the DCE in his office but their plan never materialized though they succeeded in vandalizing his house.
But for the timely intervention of the Police, cars around parked around the DCE's house would have been burnt out totally. They actually went beyond the main gate and succeeded in damaging plastic chairs and the main gate of his residence, while a caretaker at his residence, Mr. Asare was assaulted.
At the Suhum Total filling station, some of the boys alleged that one Dr. Charles Beckley had come to the area to reside in the vicinity and had therefore hired some people who were undertaking these serial killings.
Instead of cooperating with the Police to investigate and find solutions to the killings going on, the angry youth went on rampage, thinking that the Police were insensitive to their plight and what was going on.
The youth burnt tyres from the entrance of the town, not far from the District Assembly and blocked the main Suhum-Accra-Kumasi road. They threw stones at the Police, as a result of which the back screen of the District Police Commander's car got smashed.
At the time of filing this report, the situation was very tensed that the Police had to fire tear gas and live bullets and in the process, a teacher was hit by a live bullet in the thigh and was rushed to the Suhum government hospital.