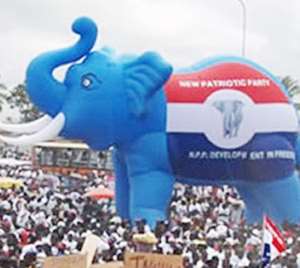 Popular MPs must be maintained or kept always. But not without consultation with the people in the constituency. Investigate to find who is respected by the chief and local members to represent the constituency. Internal rules must discourage the novice MP who does not have education and experience but want to come and do the trial and error method. A relevant degree will be helpful. The latter candidate must be talked to and persuaded to find an alternative profession that suits his background. Politics is not a place where the novice should be allowed to do trial and error or experiment with people's lives. What is happening in the opposition party in Ghana at the moment, where one individual without proper imagination is clamoring for votes to allow the people to choose him is one typical example. Meanwhile, there is clear evidence that he has been tagged with gigantic corruption allegations which are salient to the people at home and the international community. People like this man lack the imagination to analyze themselves well and perceive themselves as they are. They do not accept the fact that no persons on earth with these behaviors could be exonerated from such strong allegations, which will surely affect their chances of being elected to fill an office. Citizens may be following him because of his money and those around him may not be the right type of people who could communicate the situation as it appears to him.
President who has strong confidence in the people and the party has to be chosen to lead always. When a candidating President loses the confidence of the people, quickly he should have no-confidence votes to allow another strong candidating President to take his place. This must be done usually with haste not to destroy party confidence the people have as a whole. Irrespective of his handsomeness or influence, a candidating President can be replaced with another if he is losing the confidence people have in him.
The party must move forward and progress in the country day by day. Their policy's fulfillment should be seen not in terms of its excellence, but the passing and average fulfillment is what should be aimed. People are satisfied with a party that can show that something is still going on even though they have not achieved all their programs, and there is evidence that they are progressing all the time. The party must repeat the one million to one constituency, one village one dam, one constituency one ambulance, one district one factory, road building in every constituency, court houses in the districts or constituencies, houses for the officers in uniform, that is, both military and police, pensions for cocoa farmers and also these informal sectors should be formalized, etc.
The President must be close to the people. If possible, he should have a weekly program in which he sits down and chats with people, not necessarily with the journalists. It could be young children or adults who come into contact with him to question the President about matters being dealt with at the moment or to be proposed of being done in the future. Expose those plans and let the public share their views concerning these developments to be done or accomplished in the future.
Make changes concerning Social Class. Introduce income insurance so that when people are no longer employed could be used to support them. These are usually deductions from their earnings which could be used by these governments to support individuals who perchance could lose their employment. Single women with children should receive some support to help them live and take care of their children.
Women's rights in society should be taken seriously by the party. Ghanaian women should not have to struggle too much before they eat. Appropriate ways should be explored to see how the single and divorced could be supported in society. Learn from the developed countries about how the nursing mother could have 18 months to stay at home and take care of her children while she is paid 80% of her working income during the time she stays at home. The working father could stay at home for six months, and they pay them. It could be transferable to the other partner.
Daycare schools should be built to care for the kids in Kindergarten. The kids are future leaders and citizens who need to be nurtured and have better lives as young. Here, many women will get employed and acquire their livelihood as well.
Appropriate manners of modernizing Health care in Ghana. Ghanaians should be able to go to a hospital abroad and at home at a reduced fee. Always investigation should be conducted to look for a proper way whereby it can be modernized. Computerizing the manner it may be consumed in the country is vital.
Citizens' jobs must be protected by the promulgation of laws. While immigration should be respected because it could lead to investments and jobs, still good laws that will ensure that immigrants cannot take the jobs that could be done by citizens. Constant checking and strict control must be in place.
Ministers must be popular figures who have accomplished something in their lives. Not all of them should be picked from parliament. They must have something to show to the people before they are chosen. Good education alone should not be the criterion; accomplishments must be weighed to let the people have confidence in them. But one little mistake should make a minister retire or resign in order not to infect all others concerning the loss of confidence by the people.
MUNICIPALITIES, DISTRICTS, AND DECENTRALIZATION
1. What should be the qualifications of MCEs and DCEs?
MBAs (Master of Business Administration)
2. How should they run the municipalities and districts?
3. What should they do among other things to raise money/revenue?
Raise money from taxes and tolls
Develop tourist attraction areas
Cars/lorries parking areas
Acquire loans from reputable banks
Build low-cost self-contained houses and apartments for rent
Start with 50 houses initially and increase them by 20 each year.
4. Who are the target groups? Only income-earning groups such as:
Teachers, headteachers, headmasters, laborers, and gardeners
Nurses, physiotherapists, Curators, doctors, drivers
Bankers, cashiers, security officers
Fire service workers, workers in the districts
HOW TO CREATE WEALTH (COMPARATIVE ADVANTAGE)
---
NORTHERN GHANA (Agriculture, Irrigation)
Groundnut-peanut butter; Peanut oil; Vegetables for export to Europe; Cattle ranching- cornbeef, leder, buttons; Milk and cheese; Yam- fufu, yam for export to Europe; Guinea fowl for export; Sorgum; Rice; Wheet; Corn/maize; Weed; Tobacco; Weaving superb Batakari; Sandals; Okada Racing sports- betting
BONO AHAFO AND RELATED REGIONS
Middle belt (Cash crop); Cocoa; Cocoa factories; Tea; Coffee; Cashew; Goat rearing, meat, and milk; Sheep rearing for wool and milk; Tobacco; Weed.
ASHANTI REGION
Entrepreneurs; Mechanical; Automobile industries- magazine; Factories; Industrial hub; Weaving of kente; Minning; Metal industries; Jewelry industries; Hotel and Hospitality industries; Publishing industries; Paper Group; Technology industries and consulting; Foodstuffs, yam, plantain, garden eggs; Goat and sheep rearing for wool and milk, cheese; Cashew; Wine, Bitters, Schnnaps; Palm oil plantation; Culture; Tourism; Shoe factory, Bata; Capentry; Music and Art; Okada Racing sports-betting.
WESTERN/CENTRAL REGIONS
Oil industry; Gas industry; Minning; Hotel and Hospitality; industries; Fishing harbor; Casava industries; Sugar cane- sugar industries; Sweet potatoes; Coconut oil industries; Palm oil plantation; Vegetables for export to Europe; Tobacco; Weed; Tourism; Culture; Music and Art.
VOLTA REGION (Irrigation)
Kente weaving; Cassava biscuits; Cattle ranching-Fish industries; Culture; Tourism; Cornbeef industries; Coconut oil; Tobacco; Tomatoes; Onions; Music and Art.
ACCRA-TEMA METROPOLIS
Banking; Pharmaceuticals; Automobile industries- Katanka Groups; VW Automobile Group; Agro-industries; Jewelry industries; Fishing industries; Publishing Industries; Paper industries; Metal industries; Airline industries; Hotel and Hospitality industries; Technology industries and consulting; Music industries; Sports industries; Okada Racing sports- betting.
EASTERN REGION
Mining; Forestry; Cocoa; Cocoa nursery; Cocoa factories; Palm oil plantation; Foodstuffs, plantain, yam, cocoyam; Fufu factories; Maize; Cassava for biscuits factories; Quarry; Tourism; Culture; Weaving; Pottery; Fruits growing; Music and Art.
MARKS OF A HIGH-CULTURED SOCIETY
Take care of canals and fence them with concrete and stones.
Plant good trees to provide shade and good ventilation for the city dwellers.
Build swimming pools for workers and pensioners to swim and relax during breaks.
Provide Sculptures and Statues to be admired and enjoyed in your cities by citizens.
Concert halls and theatres to be enjoyed and raise spirits.
City Libraries for readers, students, pensioners, and politicians.
Other necessary activities to entertain those not on active duty, such as cafes, restaurants, Bars, Cinemas, Boat Kryssning, or tours on the seas.
They take village life in the woods very essential as they experience immense relaxation after the hectic hustle in the cities.