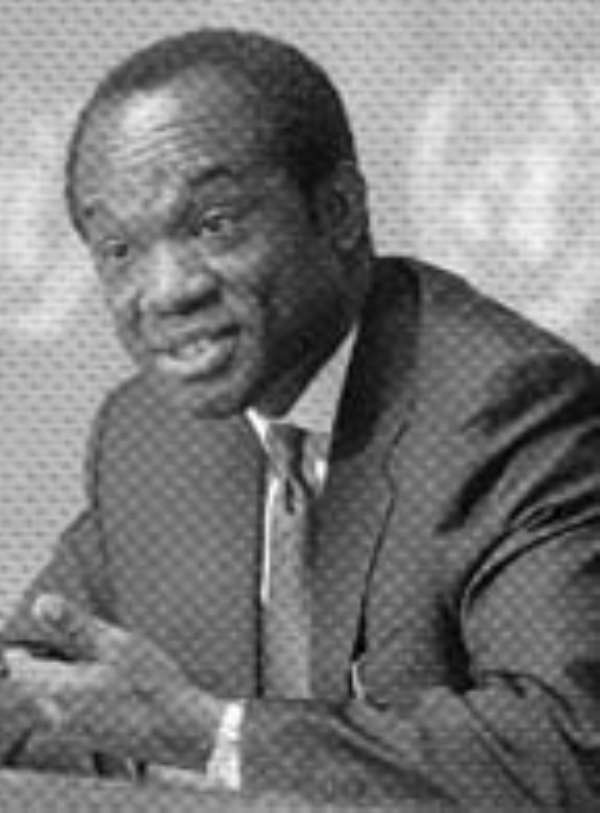 At a time when Ghanaians are still basking in the honour brought to the country through the meritorious achievements of Mr Kofi Annan, immediate past Secretary General of the United Nations, another Ghanaian has been elevated to the high office of Deputy Director-General of the World Health Organisation (WHO).
On January 9,2007, Dr Margaret Chan, Director-General of WHO, named Dr Anarfi Asamoa-Baah, a national of Ghana, as WHO's Deputy Director-General. Dr Asamoa-Baah took up duties immediately.
Dr Asamoa-Baah, also known as "AB" at WHO, has held senior positions at the organisation since 1998.  He began his career at WHO as a senior policy advisor to the Director-General. Since then, he has been widely respected for his leadership in HIV, tuberculosis and malaria,  communicable diseases, health technology and pharmaceuticals, and in external relations.  Prior to working at WHO, he was the Director of Medical Services for Ghana, and has significant experience in public health, health policy and health systems development.
"I am exceptionally pleased to name Dr Asamoa-Baah to the important post of Deputy Director-General," said Dr Chan. "WHO and the world of public health will benefit greatly from his expertise, his experience and his wisdom. I am looking forward to working closely with him." 
Dr Anarfi Asamoa-Baah, 48, was educated at Prempeh College, Kumasi, and the Ghana Medical School, Korle-Bu. He started his medical career as a doctor at St Patrick's Hospital, Offinso, where he developed special interest in public health, and became the District Director of Health Service, Offinso.
He also worked as the Catholic Church Diocesan Primary Health Co-ordinator and briefly as the Regional Director in charge of Public Health, in Ashanti Region, before proceeding to the UK and the USA for postgraduate studies. He has postgraduate qualifications in community health, health planning, health economics and public policy analysis.
After working briefly as a lecturer at Liverpool School of Tropical Medicine and Hygiene, he returned to Ghana to head the Policy, Planning, Monitoring and Evaluation Division of the Ministry of Health, where he championed strong district health systems, sector-wide approach to health development, and led the development of the very first five-year programme of work for the health sector.
In 1997, he was appointed the Director of Medical Services, Ministry of Health, Ghana. AB, as he is widely known, is best remembered as a strong advocate for health sector reforms, and as a dynamic and inspiring leader.
He joined WHO, Geneva, in 1998 as a senior policy adviser to the Director-General. He has served as Executive Director for External Relations and Governing Bodies and Executive Director for Health Technology and Pharmaceuticals under Dr Gro Brundtland, a former WHO Director-General.
Under the immediate past Director-General, the late Dr J. W. Lee, he initially served as Assistant Director-General, Communicable Diseases. Since October 2005, he has been the Assistant Director-General, HIV/AIDS, Tuberculosis and Malaria.
He is generally described by his colleagues as "very bright and intelligent, astute and very experienced manager, visionary and strategist with a very sharp sense of humour".
The position of Deputy Director-General has been vacant since 1983. The need for the position was brought to the fore with the untimely death of Dr Lee where the absence of a Deputy Director-General led to a near crisis.
As Deputy Director-General, Dr Asamoa-Baah will assist the Director-General in managing the organisation, support her in ensuring cohesion and coherence of activities and programmes and in elevating the profile and leadership of WHO in health and health development.
By Rosemary Ardayfio