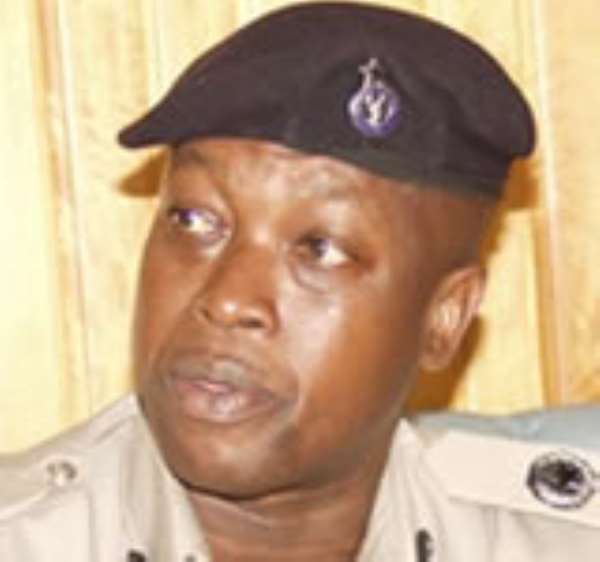 An accused person in the trial of the missing parcels of cocaine from a fishing vessel at the Tema Port is said to have admitted in a police caution statement that ACP Kofi Boakye told him about rumours that a co-accused person had taken the cocaine to the Manhyia Palace in Kumasi for safe keeping.
Alhaji Issah Abass, the accused alleged that ACP Boakye, former Head of Operations of the Police Service, told him at a meeting at the Police Headquarters that he suspected that another accused person Kwabena Amaning, also known as Tagor, had taken the narcotic substance to Manhyia from where he was selling it.
Abass's statement and that of Tagor were read in court Tuesday by Detective Inspector Justice Oppong who testified for the prosecution as the initial investigator of the case.
Tagor is charged with four counts of conspiracy, engaging in prohibited business relating to narcotic drugs, buying of narcotic drugs and supply of narcotic drugs, while Abass faces three counts of conspiracy, engaging in prohibited business relating to narcotic drugs and supply of narcotic drugs.
Abass, according to the statement, said ACP Boakye had told him that he would not allow anybody to tarnish the reputation of the Asantehene and vowed to track down all those involved in the missing parcels.
Abass further said in his statement that he and some others were invited to Mr. Boakye's residence where he repeated the question about the whereabouts of the missing parcels but they all denied any knowledge.
In Tagor's statement, he said in May 2006 ACP Boakye invited him to his house where the issue of the missing cocaine was raised but all those at the meeting denied any knowledge of it. He added, "I am a property dealer and not a narcotic dealer".
Under cross-examination by Ellis Owusu Fordjuor and Mohammed Atta, counsel for Tagor and Abass respectively, Inspector Oppong said that after the Georgina Wood Committee that investigated the missing cocaine had released its report, the case docket was taken from him to the CID Headquarters but he declined to mention the person who gave that instruction.
He said he took the caution statements of the two accused persons together with other persons arrested in connection with the case on August 3, 2006.
Oppong further told the court that he searched the houses of Tagor and Abass and took a statement from ACP Boakye.
When Justice Dotse, the trial judge, asked him whether he extended his investigations to Manhyia, Mr. Oppong said, "I did and that is why Alhaji Moro was brought in for interrogation".
He said the names of Tagor and Abass were not on the list attached to the exhibits that were sent to the Ghana Standard Board for analysis and added, "they voluntarily gave their statements to me".
Source: The Ghanaian Times