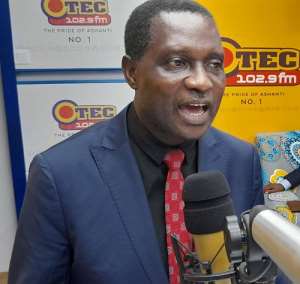 The Minister of Education Dr Osei Yaw Adutwum has extolled President Akufo-Addo over his efforts to streamline Technical and Vocational Education (TVET) in the country.
The Minister believes President Akufo-Addo's decision to strengthen TVET in the country was timely as it has come at a time the public has accepted Science, Technology Engineering and Mathematics STEM Education as the way to develop quality human resources for the country.
According to him, the intervention forms part of strategies to promote STEM education in the country.
The Member of Parliament for Bosomtwe Constituency lauded the President for honouring his promise of setting up the Ghana Technical and Vocational Education and Training Service (Ghana TVET Service) as mandated by the Pre-Tertiary Act.
"Setting up the TVET Service has harmonised and strengthened the governance, management and delivery of TVET service in Ghana.
"Its now evident that the country has departed from the previous arrangement wherein over 200 TVET institutions were scattered under various Ministries, Departments and Agencies, creating an amorphous and incongruous governance system that affected effectiveness, efficiency and accountability in TVET service delivery and i must say president Akuffo Addo deserves a huge applause for this achievement", he said.
Dr Adutwum said this at a media briefing at Fumesua on Sunday, March 12, 2023, after meeting the members of the Conference of Assisted Senior High Schools (CHASS) and Principals of Technical and Vocational Education and Training instruction in Kumasi.
"The Akufo-Addo administration will remain the best in terms of Education as it has sanitized the Technical and Vocational Education and Training (TVET) sector to ensure effective regulation.
"TVET as we are all aware is a key catalyst to spurring industrialisation and decent job creation for the citizens of this country and so the aim is to use TVET to produce quality human resources that can leave up to the task in the current job market.
"The vision of this government, lead by President Akufo-Addo has brought a lot of innovation and transformation in the education sector, creating opportunities for thousands of Ghanaian youth to excel in their academic endeavors without difficulties," he stated.
He appealed to the public to support the New Patriotic Party (NPP) government to continue to deliver more.