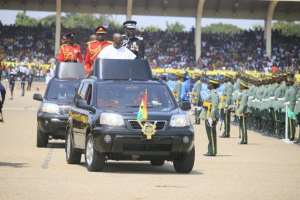 When over 300 Ghanaians died of a primitive and globally eradicated disease like cholera under your presidency, the 6th March Independence Day celebration was held and you took the salute.
When Ghana was going through debilitating dumsor under and thousands of Ghanaians perished in operation theatres due to power outages under your presidency, the independence day was held and you were there to take the salute.
Indeed, when newly-wed couple died in Dansoman from fumes from a generator in their room to provide them light because of dumsor, independence day was held and you were there to take the salute.
When a final year student died instantly in the central regional town of Agona Swedru, when her television set exploded like a missile in her room as a result of dumsor-related power surge, the independence day was held and you were there to take the salute.
Today, we're having shortages of vaccines for children to stem childhood diseases which is an unfortunate situation we're all extremely worried about, and demanding it is resolved as quickly as practicable.
But for John Dramani Mahama to say he will not attend today's 66th commemorative independence ceremony in the Volta regional capital Ho, because there is shortage of vaccines, is a textbook attestation of his unquenchable affinity for decrepit hypocrisy and crude populism.
In anycase, since when, in our post-independence history, has independence day commemorative event ever been held, with Ghana not dealing with one problem or the other?
I very much remember when our independence day was marked while then-sitting President Kufuor happened to be away in Australia; ndc propagandists took him to the cleaners and described him as unpatriotic.
I don't know if John Mahama attended that year's Independence day commemoration because, just as they're trumpeting today, they were shouting from the rooftops that Kufuor had totally messed up the economy and Ghana was a total failed state.
Like I said yesterday, John Mahama is a character with no scruples. He has chosen to throw caution and decency completely out-of-the-window and traversing, recklessly, the highway of indecent behaviour, just for the sake of political power.