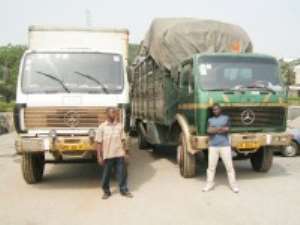 Two Cargo trucks and their goods have been impounded by the Awutu police who turned down a bribe offered them by the drivers.
Sualiu Ganiwu, 29, and Abdul Razak, 30 both from Takoradi, were arrested by the police Highway Patrol Unit on suspicious of under-invoicing assorted ladies' wares and electrical goods they were conveying from Takoradi to Accra.
The goods were valued at 500 million cedis.
The suspects, on their arrest allegedly offered the police team 100,000 cedis to leave them. But when the police refused the offer, they raised it 500,000 cedis later to 1 million.
Superintendent Sayibu Gariba, Commander of the HPU, told the Times that the team, which was on patrol duties on the Accra-Cape-Coast road, intercepted the two cargo trucks. When the documents were checked it was realized that the two waybills bore the name of one driver.
He said this raised the suspicious of the police who wondered how two vehicles at the same time and so decided to probe further. it was at that point in point that they two men made the offer to the police.
Mr. Gariba said that when the drivers offered the one million cedis, the police collected the money but arrested them for attempting to bribe police officers and took them to the Police Headquarters for further interrogation.
The Commander said while the police were returning to Accra, two women, Elizabeth Nyanzu of Makola Shopping Mall, and Margaret Aryee of Aryee Mentatti Enterprise, also in Accra, approached them and claimed ownership of the goods. They were consequently arrested and taken to the Police Headquarters for further investigation.
Mr. Gariba said the goods have been handed over to the Revenue Agency Governing Board, for re-examination, while the two drivers would be put before court on a bribery charge.