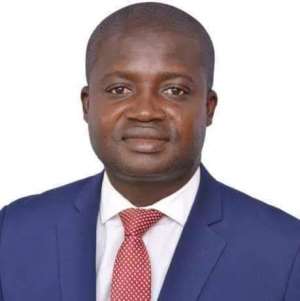 "His Excellency Nana Addo Dankwa Akufo Addo led NPP government is committed to rural development to improve the quality lives of people," the District Chief Executive for Gomoa West Hon. Bismark Baise has said.
At a townhall meeting organized by the Assembly to showcase its activities in the District at Gomoa Eshiem last Tuesday, Hon. Bismark Baise Nkum stated that the maiden meeting with the people was to outline a number of development projects and other services that have been executed to improve the standard of living of the people.
He mentioned areas such as education, health, water and sanitation, agriculture, youth employment, commerce and social welfare activities to cushion Persons With Disability and the Aged among others.
On education, Hon Bismark Baise Nkum mentioned the completion of teacher's quarters equipped with kitchen and toilet facilities at Gomoa Hweda, Gomoa Damang and Gomoa Dago to attract more teachers. He added that the District needs more than 400 teachers to fill in vacancies in the basic schools.
"A 2-unit KG block has been built for Gomoa Akenfo, Gomoa Akyempim, Gomoa Dawurampong and Gomoa Antseadze Basic Schools. A 3-unit classroom block has also been constructed for Gomoa Techiman, Gomoa Obiri, Gomoa Akropong No1, and Gomoa Hweda.
"Similarly, a 6-unit classroom block has been constructed for Mumford, Dawurampong Senior High School, Mozano College of Music and a renovated 6-unit classroom block for Gomoa Mampong and Gomoa Koforidua to ease congestion in the classrooms.
"Additionally, a 16-unit classroom block and another 12-unit classroom blocks have been constructed for Apam Senior High and Dawurampong Senior High Schools respectively. An administration block has also been constructed for Gomoa Adaa Technical Institute. It is worthy to note that the student population of Adaa Technical Institute has increased from 34 to 800. The school is providing the best technical education in this part of the country.
"Thanks to our listening President, His Excellency Nana Addo Dankwa Akufo Addo, academic standard in Gomoa West District has risen significantly to a higher level due to the provision of educational infrastructure," the DCE stated.
In the Health sector, the Gomoa West DCE shocked the audience with mouthwatering projects to give access to quality healthcare delivery. He mentioned a solar panel facility for Gomoa Eshiem Health Center, a CHPS Compound at Gomoa Enyeme, Appiahkwaa Debiso, Obiri, Antseadze and ongoing construction of health center at Mumford.
"For the first time in many years, proceed from the sale of pre-mixed fuel has been used to construct health facilities for Apam, Dago and Abrekum fishing communities. A 12-seater W/C has also been constructed for Mumford community with funds from sales of pre-mixed fuel.
"An ambulance shed and offices have been built at Gomoa Ankamu to provide emergency healthcare to accident victims because Winneba- Apam Junction Highway is prone to accidents. This is to give quick responses to such incidents when they occur in our vicinity.
"It is worthy to note that all the 78 communities in the Gomoa West District have been connected to the national grid to boost Small and Medium Scale Enterprises, local economy has since improved significantly," he intimated.
Hon Bismark Baise further stated that since 1963, this is the first time Mumford Landing Beach was being constructed for the fishing community in addition to a Police Station to boost security in the area.
He again mentioned the provision of a Telecommunication Mast (Network Pole) for Gomoa Fomena, Gomoa Sampa, Gomoa Obiri and Hweda to improve telephone communication with the families, friends and loved ones outside the community and water reservoir at Gomoa Kyiren to supply portable drinking water for communities in the far west side of the District.
The DCE noted the creation of employment through the Youth Employment Agency (YEA) noting that the number of people employed has increased from 18 to 106 in the area of Community Police Assistant alone.
"The Assembly has also provided working tools for Artisans and Persons With Disability (PWDs) to be self-sufficient. Agriculture mechanization machines are also accessible and affordable for farmers to expand their farms. We have similarly given support for the youth under the Rural Enterprise Programme to attract more people into farming," he noted.
At the open forum, some residents of Gomoa Eshiem hailed the DCE and the Gomoa West District Assembly for the numerous projects aimed at making lives meaningful for the people. They however expressed concern over the lack of drugs at the health center which has affected healthcare delivery.
They also complained about the poor road network in the district and called on the Assembly to at least reshape them to facilitate smooth transportation of goods and services.
Mr. Kwesi Adu, an opinion leader expressed his appreciation on behalf of the people in the community to President Akufo Addo led NPP Government for improving the lives of Ghanaians in the wake of the global economic crisis and called on Ghanaians to exercise restraint as government take steps to improve the economy.
Hon. Bismark Baise Nkum donated 400 school uniforms to be distributed to brilliant but needy children to enable them attend classes regularly. Noted that over 1,000 school uniforms were being distributed to schools in the District to cushion parents financially.