The Dormaa Akwamuhene of the Dormaa East District in the Bono Region, who doubles as the Kontihene of Mansen Traditional Area, Barima Oppong Kyeremeh Sikafuo, has blamed the current difficulties as a nation partly on the gradual surge of societal indiscipline.
He has therefore called for a collective responsibility by all and sundry to deal with the canker that has the tendency to mar peace and development.
He made the call at the District's 66th National Independence Day Celebration held at Dormaa Akwamu Roman Catholic Park on 6th March, 2023.
The colorful event which brought together the chiefs and their people was characterized by match pass, speech reading and awards. It was also replicated in other seven (7) major towns of the district to enable all schools participate in locations near them. In all, 10 schools including both private and public took part in the parade. Other associations such as tailors, hairdressers and market women were not left out.
The chief who was the chairman of the ceremony attributed the ineffectiveness and the gradual collapse of the Ghanaian societal systems to indiscipline among the current generation.
In his remarks, Barima Kyeremeh Sikafuo who called for a holistic approach to tackle the menace.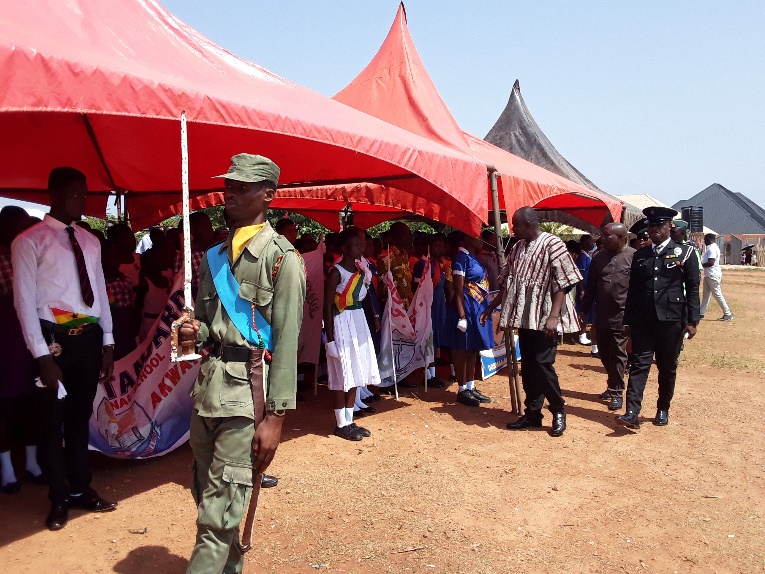 The District Chief Executive, Hon. Emmanuel Kofi Agyeman, who read the Anniversary Speech to commemorate the occasion on the theme "Our Unity, Our Strength, Our Purpose," acknowledged and commended forefathers for sacrificing their lives to secure the independence of the country.
He also acknowledged that without peace and unity, even with all the resources of the country, there cannot be development.
For this reason, he indicated that the District has invested in several security posts and police stations dotted across the district to ensure security and peace.
The DCE, who also expressed dissatisfaction with the level of indiscipline in the Dormaa East District, called on all stakeholders involved to instil good moral training in the youth.
He was optimistic, certain strategies being considered by the District Education Oversight Committee if fully implemented will go a long way to help the District rectify indiscipline lifestyles and attitudes among the youth and give them a sense of direction and purpose.
However, he was disturbed about the increasing rate of HIV/AIDS among people in the District. He announced three hundred and thirty (330) newly recorded cases just last year 2022. He cautioned the youth to be disciplined in order to stay safe and alive for the development of the country.