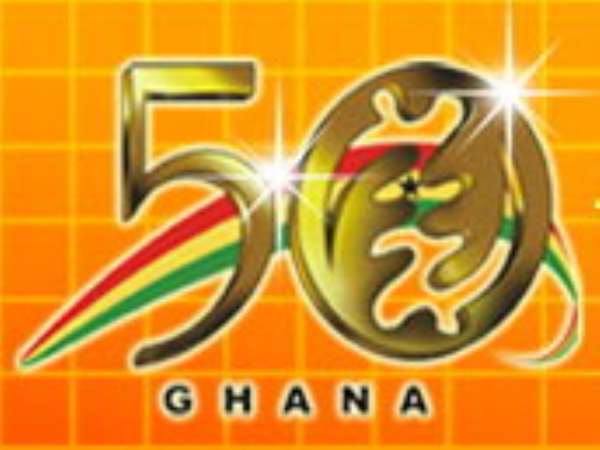 A series of trade fairs and exhibitions have been earmarked as part of activities to celebrate Ghana's 50th anniversary celebration this year.
According to a provisional pro-gramme issued by the Ghana at 50 secretariat, about eight trade fairs and exhibitions will be held during the year.
These include the 10th Ghana International Trade Fair dubbed "The Golden Jubilee Fair" to be organised by the Ghana International Trade Fair Company (GITFC), in February.
Also to be held in February is the EDUCFAIR, a fair aimed at showcasing the contribution of education to national development over the past 50 years.
The EDUCFAIR, which will be organised by the Ghana National Chamber of Commerce and Industry, will also highlight business opportunities in the education sector.
It is expected to attract stakeholders from the educational sector to chart a way forward for the sector.
An exhibition of Ghana's agricultural, industrial and commercial products is also scheduled to be held in May as part of the country's Golden Jubilee.
The rationale behind this fair, which will be held under the theme "The Wealth of Our Nation," is to create a platform for players in these sectors to showcase their products and also afford them the opportunity to find a way of linking these sectors to boost productivity.
A National Cocoa Week to promote the sale and consumption of the country's greatest natural resource, cocoa, has also been slated for May.
Consequently, all eateries, hotels, lodgings, public bars and private homes will be encouraged to serve cocoa or chocolate for the week.
Also, all corporate board meetings, official functions will be made to serve only cocoa as the official beverage for the country's Golden Jubilee celebration.
The move is intended to promote the use of cocoa and also make it attractive to the public.
In July, African products and services will be on display at the GITFC, alongside a bazaar of foods and cuisine from African Union Member States.
The country's herbal products are also expected to be exhibited in November at a fair under the theme: "Healing ourselves."
The fair is expected to showcase the country's herbal products to the international community and also promote the use of herbal medicine in the country.
An exhibition of the country's handicrafts, beads, sandals among others, has been earmarked for the celebration. This is expected to promote the non-traditional export sector which has the potential to contribute to the development of the country.
Also included in the programme is a series of forums to share ideas and experiences on the promotion of the country's private sector.
A Golden Jubilee lecture on the private and public sector management of the economy to share experiences of the last century and the way forward will be held in May.