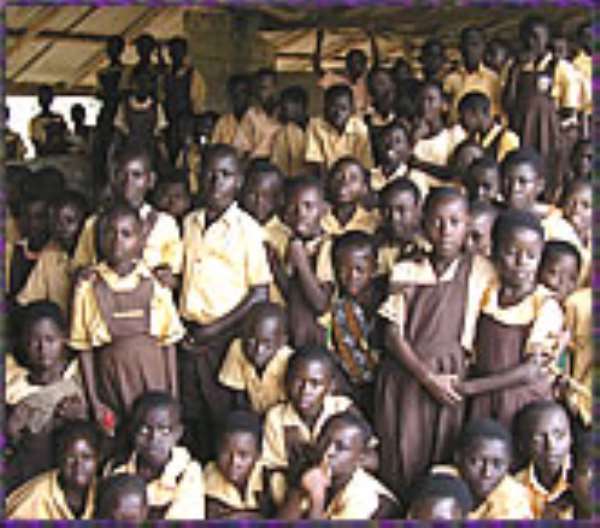 The National Coordinator of the School Feeding Programme, Dr Amoako Tuffour says the exercise will be expanded this year to cover 500,000 more pupils in selected districts.
This will bring the total number of pupils being fed under the programme to over 900,000; almost half the target.
The School-feeding Programme was introduced two years ago and aims to feed about two million pupils throughout the country. So far, the programme is yet to cover half of the target but Dr. Tuffour says the programme will meet its target on schedule.
"We are in high gear for 2007. By the end of 2008/2009, we will be hitting close to about 1.5 to two million children. We would have covered almost every child and we will feed that child one hot meal locally produced a day, five days a week."
At the cost of ¢3000 per child, government foots 50 percent of the total cost whilst the Dutch Government provides for the remaining 50 percent.
And with the dramatic increase in school enrolment and the huge financial cost involved, many have raised concern about the sustainability of the programme. But Dr. Tuffour assures that government is negotiating with other governments for financial support.
"The Japanese are planning to come in. The Americans are already here. This month we have some very serious people who are coming in for meetings and all that. Before too long the sensitive people in this world would have come in to work with us to feed the helpless children. That to me is the basic challenge and I thank the Almighty God that we are up to the task, ready, willing, able to do it."
Dr. Tuffour also hinted that government will soon seek legislative backing to the programme to prevent future governments from scrapping it.
"Africa has a lot of mad Heads of State. New governments come, they try to forget about the old programmes of the previous government, they do that. And I think this is a great programme and from the way people like it and all that I have informed the Minister of Local Government to proceed so that as soon as possible we can legalise it through Parliament."
The School Feeding Programme is part of the NEPAD initiative to encourage school enrollment in African countries.