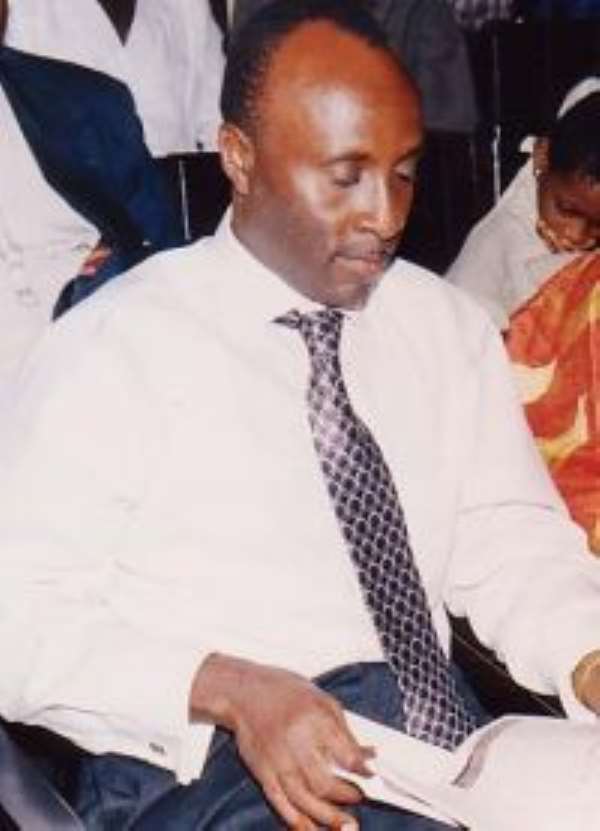 According to official records available to this paper and contrary to recent publications in a section of the media regarding allegations of illegal acquisition of properties involving Paul Victor Obeng, it has been established that it was rather the Publisher of The Chronicle, Kofi Coomson, who issued a voluntary statement to the Commission on Human Rights and Administrative Justice, informing it that he had decided to discontinue acting as a witness in the case.
"I think I would be more useful to the community by doing something better," Coomson"s statement to the CHRAJ went.
However, slinging under the false impression that the CHRAJ records were missing, Mr Coomson used the case as a major arsenal in his relentless dirt campaign against the frontrunner in the race to elect a new flagbearer for the New Patriotic Party.
In an interview with his own paper in January 2004, with the headline: 'Foreign Minister Owes Me An Apology,' Kofi Coomson alleged that PV Obeng got Capt (Rtd) Kojo Tsikata to persuade Nana Akufo-Addo to stop representing him in that case.
In his creative effort to link the founding member of the Danquah-Busia club to the National Democratic Congress, Mr Coomson has repeatedly accused the Foreign Minister, Nana Akufo-Addo, whose law firm Akufo-Addo, Prempeh & Co had represented him in several legal battles in the past, of leaning on a then junior at the law firm, Yoni Kulendi, to drop the PV Obeng case.
But, yesterday, Mr Kulendi finally broke his silence when Mr Coomson repeated the allegation on Joy FM's Morning Show, hosted by Kwadwo Oppong Nkrumah.
This followed a front page publication in Egbert Faibille's The Ghanaian Observer: 'KOFI COOMSON FINALLY ADMITS… AKUFO-ADDO IS FIT TO BE PRESIDENT!'
The renowned lawyer said Kofi Coomson has been telling a "black lie," in a bizarre attempt to tarnish the reputation of the Foreign Minister and aspiring presidential candidate.
Mr Kulendi, who felt compelled to remove the veil of lawyer/client confidentiality, told Joy FM that, far from Mr Coomson's allegation that Nana Akufo-Addo behaved unethically, it was rather the Chronicle publisher who drafted a non-cooperation letter to CHRAJ, inviting the young attorney, Mr Kulendi to review the letter before it was submitted by Mr Coomson to CHRAJ.
The Chronicle publisher has complained in his paper in recent years that it was the office of the then Commissioner, Emile Short, "that has persistently refused to keep records of proceedings covering his appearances before the Commission on Human Rights and Administration Justice in 1996."
Granting an interview to his own paper in January 2004, Mr Coomson said Commissioner Short told him "that a virus had destroyed the records of the proceedings" when he made an official request for them.
According to records of the proceedings, it was not Mr Coomson who initiated the CHRAJ case as a complainant.
In 1995/96, the Commission, which had invited Nana Kofi Coomson as a witness, notably regretted his decision to withdraw cooperation and stated that it felt "the interest of the nation would have been better served if he [Coomson] had sought audience with the Commission to discuss the issues raised in his [withdrawal] statement and to find solutions, if any, to them."
Mr Coomson also had the contradictions in his view on Nana Akufo-Addo pointed out by his younger colleague journalist, Mr Oppong Nkrumah yesterday when the interviewer probed further: "… To get exact clarifications from you, you are saying that Nana Akufo-Addo is fit for President but he cannot be entrusted with the Presidency and this position has not changed essentially?"
"No it hasn't changed in any way, in fact - hmm…it hasn't changed," Mr Coomson stressed.
Sounding very I've-had-enough yesterday, the perpetually cool and eloquent Mr Kulendi of [email protected] explained to Joy FM why he has finally decided to break his silence: "For me, for very professional reasons, because in lawyer-client relationship communication is a tricky matter, generally confidential, I have always considered it inappropriate to jump into the public domain to engage in a debate with someone who spoke to and consulted me as a client.
I have now come to the conclusion that Mr Coomson himself has pushed this matter to a level where I feel comfortable that he has compromised that position and is willing for a public debate on what happened. …Indeed Mr Faibille conducted and actually serialised the CHRAJ proceedings of 1996-97 and in all of that I kept my peace because I had been of the view that Mr Coomson would shut up because his own story, and the contradictions and lies in it were catching up with him."
The records of CHRAJ read: "In the course of the proceedings and on separate dates, the Editor-in-Chief of the Ghanaian Chronicle, Nana Kofi Coomson, and the Editor of the Free Press, Eben Quarcoo, appeared before the Commission." It continues, "In the company of his solicitor Captain (Rtd) Effah-Dartey, Nana Kofi Coomson read a statement informing the Commission of his decision to withdraw further assistance to the Commission with regard to the investigations.
"He said he was withdrawing because agents of the officials under investigation had placed his informants and witnesses under systematic harassment."
Mr Kulendi threw more light on it yesterday, "What happened at the CHRAJ, I am not the one who delivered a letter to CHRAJ. Kofi Coomson delivered a letter to CHRAJ outlining his reasons."
Mr Kulendi continued to disclose that Mr Coomson "brought the letter to me and I made comments in his house and I assisted him so I don't know what Kofi is talking about."
He has challenged the Chronicle publisher to a full public debate on the issue.
Mr Kulendi's view is that, "Nana Akufo-Addo … is a man who has earned his reputation and his stature in this country and Mr Coomson ought not take him on for what ever reason the way he sought to do."
At the time of the PV Obeng case, CHRAJ was also investigating various allegations against I K Adjei-Maafo, former Minister for Cocoa Affairs, K K Sarpong, former CEO of Cocoa Marketing Company, Ibrahim Adam, former Minister of Food and Agriculture, Col (Rtd) Osei-Wusu and C B Ntim.
Ironically, Mr Coomson had contemporaneously reported in the Ghanaian Chronicle, when the CHRAJ cases were pending, saying "that members of the public have nothing to fear and should step up and offer information that will help the [cocoa] industry plug its leaks and wastage."
In November 1995, the then Editor-in-Chief of the Ghanaian Chronicle, had urged the NDC officials before CHRAJ to behave like good Christians and assist the Commission to "halt the rot," as exposed in publications in his paper concerning the cocoa industry.
Yet, in his withdrawal statement afterwards, Mr Coomson told CHRAJ, there was "a certain slackening in my vigour and attitude to the work of the Commission," adding, "I have no incentive to continue in my work and I want to boycott this probe."
This is in complete variance to the position the publisher of the Chronicle has developed and somewhat maintained since 2003.
In 2003 he granted an interview to his own paper in which he said he "became puzzled by the decision of the lawyers representing him to pull out one after the other just when he was preparing for the case."
According to available CHRAJ records, Mr Coomson in withdrawing from the case in 1996 explained that, because the officials being investigated, including PV Obeng and Dr Adjei-Maafo, had not been interdicted, they still wielded power and influence and were in a position not only to scare potential witnesses, but also to tamper with records to distort evidence and cover their tracks.
The report further notes, "Nana Coomson also expressed the opinion that nothing good would come out of the Commission's investigations because the very public officials under investigation had been given additional and substantive offices."
He stated in his own words, "Now if I come here and testify like a mocking bird only to see the people that we are accusing being promoted and whistling past me, I tend to look like a sissy. There is no incentive to continue such an exercise. I think I would be more useful to the community by doing something better."
Mr Coomson gave another reason to the Commission. He said he had about 15 suits pending against him in court and "the cost was beginning to take its toll," according to the report.
That particular investigation was started by CHRAJ following a series of allegations of corruption and illegal acquisition of property made against Mr Obeng, the then Presidential Advisor on Governmental Affairs, by the Ghanaian Chronicle and the Free Press in 1995.
In showing its displeasure with Mr Coomson's decision to withdraw from the case, CHRAJ writes in the report, "the Commission was prepared to receive information or evidence in support of allegations of corruption and other improprieties privately and then conduct its own investigation to verify the authenticity or cogency of the information supplied."
CHRAJ further explains, "Even though the Commission's position on this matter was made clear to Mr Coomson and the public during the hearings, no further evidence or information in support of the allegations made against Mr Obeng was made available to the Commission. The Commission was therefore constrained to investigate the allegations on its own steam and to the best of its ability."