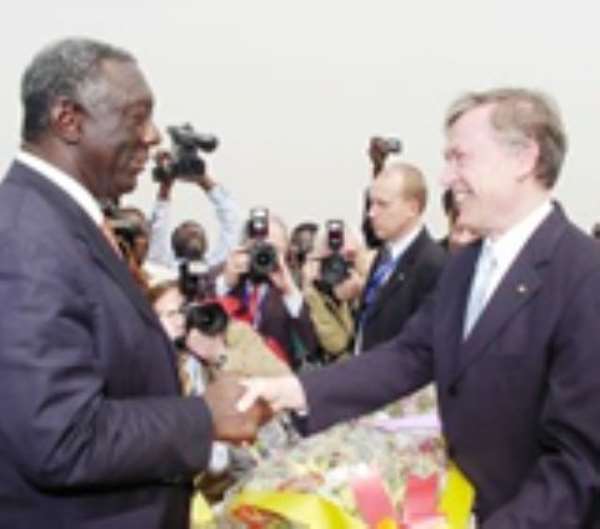 President John Agyekum Kufuor has expressed Ghana's appreciation to Germany for its development support to the country, which crossed the billion Euros mark last year.

In addition, a 270 million Euro debt owed her by Ghana was also cancelled, something, that significantly contributed to the turn around of the country's economy.

President Kufuor conveyed the country's appreciation at the opening of bilateral talks with the visiting German President Horst Kohler at the Castle, Osu, on Thursday.

Accompanied by the wife Eva and a 170-member delegation, made up of government officials and businessmen, he is in the country for a four-day visit during which, he would participate in the Partnership with Africa Forum.

The last time Mr Kohler came to Ghana was about four years ago when he was then the Managing Director of the International Monetary Fund (IMF).

President Kufuor noted that apart from development assistance, there were technical and economic cooperation between the two countries in the areas of education, agriculture, good governance as well as the fight against the HIV-AIDS pandemic.

He recalled the encouragement President Kohler as Managing Director of the IMF gave to the country, when it opted for the Highly Indebted Poor Countries (HIPC) Initiative.

"It is a credit to you. The encouragement you gave to us to go through the HIPC has helped to turn the economy around. It is now strong, stable and showing a lot of hope."

President Kufuor also referred to the "Initiative on Partnership with Africa", a baby of President Kohler, and his decision that Ghana should co-chair the Forum, which seeks to promote understanding among peoples of the world, in Accra from the January 12 to January 14 and said: "This reflects the confidence you and your Government have in Ghana."

He said it was significant the Forum was being held at the Kofi Annan International Peacekeeping Training Centre (KAIPC), which the Germans helped to establish to assist to restore peace and security to the West African Sub-Region.

President Kohler said his country was impressed with President Kufuor's leadership which, has led to high economic performance and stability of Ghana's economy.

He also lauded President Kufuor for his role in the African Union and said he saw it as a privilege to be one of the first leaders to visit Ghana as it celebrated its 50 years of nationhood.

President Kohler said his Partnership with Africa Initiative was meant to find ways and means of promoting dialogue based on equal footing.

He noted that through joint effort and activity by the rich nations and Africa, the Continent would be put on a path of prosperity.
From GNA