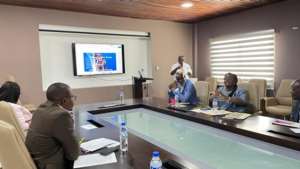 Stakeholders in Liberia's maritime sector have met in Monrovia to vet the country's preparedness for the International Maritime Organization (IMO) Member State Audit Scheme (IMSAS).
The audit is intended to promote the consistent and effective implementation of applicable IMO instruments and to assist member states to improve their capabilities while contributing to the enhancement of individual member state overall performance in compliance with requirements of the instruments to which it is a party.
The meeting was held at the headquarters of the Liberia Maritime Authority (LiMA) on Friday, February 24, 2023.
In remarks, LiMA Commissioner Lenn Eugene Nagbe said the meeting marks the first phase of the country's high level stakeholders engagement in preparation for the IMSAS audit -a voluntary process that later became mandatory requirement for every maritime nation.
He disclosed that the high level engagement was imperative because the IMO will soon send a team of auditors to review the Liberian maritime sector as a whole -this means all institutions that have anything to do with maritime affairs were asked to come together to harmonize the country's approach to the audit.
"Liberia is a major flag state, port state and a major coastal state. So, at the IMO, we play a major role. Passing the audit has reputational benefits that we are not just signing onto important instruments but implementing and abiding by them," he stated.
In addition to preparing for the IMSAS audit, he indicated that the Liberia Maritime Authority is developing a National Maritime Strategy that would guide development and improvement efforts in the maritime sector of Liberia.
For her part, the Managing Director of the National Port Authority (NPA), Madam Diana Nebo said she was glad to be a part of the high level engagement for the first time since her recent appointment as head of one of the sector's institutions, the NPA. She pledged her commitment to ensuring that the port Authority works with the rest of the stakeholders to do the right thing for a successful audit and eventual flying colors.
Representatives from the Ministries of Justice and National Defense vowed put in the time and expertise needed to prepare Liberia for the IMSAS audit.
The meeting brought together stakeholder institutions including the National Port Authority (NPA), National Fisheries and Aquaculture Authority (NaFAA), Law Reform Commission , the Ministry of National Defense, the Ministry of Justice, the Ministry of Foreign Affairs, the Environmental Protection Agency (EPA), National Disaster Management Agency, Ministry of Mines and Energy, the Ministry of Transport and the Liberia Petroleum Refining Company (LPRC).