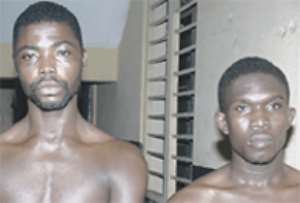 A Group of armed robbers who attacked a house at Tesano met their match in a US Marine who disarmed three of them and split open the stomach of one of his assailants.
The robbers stormed the house at Tesano, a suburb of Accra, intent on robbing the former US Marine and his family but they were taken by surprise when they were disarmed by their victim.
The struggle and exchange of blows which ensued resulted in one of the robbers being stabbed in the left eye.
Trooper Scott Anthony Spraggins of the USA, his wife, Angelica Spraggins, and his mother, Lyla Mills, sustained injuries on their heads and hands and were rushed to the 37 Military Hospital where they were treated and discharged.
The Accra Regional Crime Officer, Chief Superintendent Boi-Bi-Boi, said John Kofi Fiagbedzi, whose abdomen was slashed open, and two others, Reuben Degbor and Andrews Atitsogbui, were in police custody.
He said on December 21, 2006, Spraggins, a Trooper from Connecticut in the USA, his wife, his mother and two daughters who had arrived in the country on holidays were asleep when the robbers entered their house.
Mr Boi-Bi-Boi said Spraggins heard an unusual sound from the hall and went to check, only to be confronted by an intruder who pointed a gun at him.
He said falling on his survival instincts, Spraggins managed to disarm the robber. He said two other robbers entered the room with guns pointed at Spraggins but he managed to kick the guns from their hands.
Mr Boi-Bi-Boi said a struggle ensued between the robbers and Spraggins, with his wife and his mother joining it.
He said in the process of defending his family, Spraggins picked a bread knife and stabbed Fiagbedzi in the abdomen and Fiati in the eye, adding that sensing danger, Fiati and another colleague took to their heels, leaving Fiagbedzi behind.
He was later rushed to the Police Hospital for an emergency operation after the police had been called to the scene.
Mr Boi-Bi-Boi said Fiagbedzi later mentioned David Fiawornu, alias Kpodotor, as the one who masterminded the operation but managed to escape with Fiati.
He said on January 4, 2007, Fiagbedzi led a team of policemen to a house where Andrews Atitsogbui, who allegedly drove a taxi, with registration number GE 7435 X, on the day of the operation, and Rubben Degbor, alias Kotode, were arrested.
He said all the suspects hailed from Ho in the Volta Region and were currently assisting the police to trace Fiawornu and Fiati's whereabouts. Spraggins and his family have since returned home.
Story by Mary Mensah