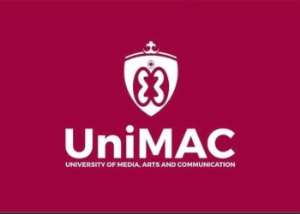 Ghana Institute of Journalism (GIJ) arm of the University of Media, Arts, and Communication (UniMAC) is set to hold its 5th inter-faculty lecture on road safety behaviours of drivers in urban Ghana.
The event is scheduled for Friday, March 3, 2023, at the North Dzorwulu campus of UniMAC-GIJ at 10:00 am.
The topic for the lecture is: "Perceptions Underlying Road Safety Behaviours of Drivers in Urban Ghana – A Health-Belief and Planned Behaviour Perspective".
Inter-faculty lectures have become characteristic of UniMAC-GIJ, spearheaded by the Directorate of Research, Innovation, and Development (DRID), as it seeks to bridge the gap between the various faculties and to foster knowledge-sharing amongst lecturers and students of the school.
The lecture will be led by Dr. Priscilla Teika Odoom, a lecturer at the Faculty of Public Relations, Advertising, and Marketing (FOPAM), and the head of the Advertising Department at UniMAC- GIJ.
Dr. Odoom teaches courses in marketing communications, brand management, digital marketing and advertising, and health service marketing/communications, and her research interests revolve around the same.
She holds a Ph.D. in Marketing from the University of Ghana Business School (UGBS) and is a member of the Academy of Marketing Science (AMS).
Road safety is a major public health issue with heightened global attention, and Africa remains a "red zone" for road traffic crashes (RTCs). Ghana is one of the sub-Saharan African countries battling with RTCs as a major cause of morbidity and mortality.
However, the interventions and heightened law enforcement approach employed in the past years have been reactive, and mere stop-gap measures result in a reduction in RTC incidences that are sporadic and short-lived.
The lecture seeks to examine the social-psychological beliefs and personal characteristics and their linkages with driver predispositions and road safety behaviours grounded on notions derived from an integration of the health belief model and the theory of planned behaviour.
The event will bring together lecturers, students, the media, and interested persons from the public.
Source: UniMAC-GIJ