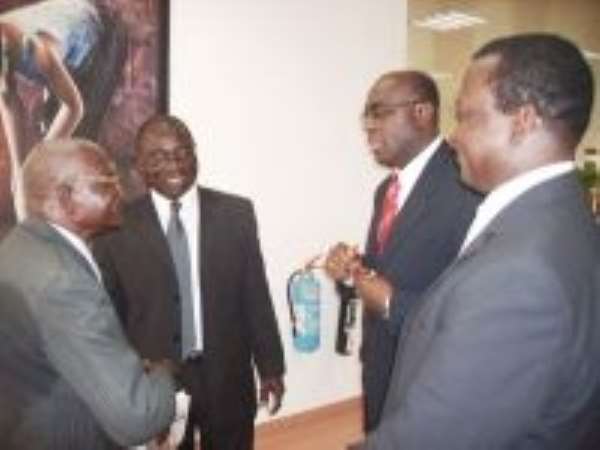 The achievement of food security and the Millennium Development Goals in 2015 would still remain the main challenges for Africa if innovative approaches were not developed to solve the soil degradation and land use problems.
"Degradation of land and water resources increasingly threatens national and households' food security in many parts of Africa. In these countries, degradation reduces the options for attaining their future food security targets and that of the next generation."
Papa Owusu-Ankomah, Minister of Education Science and Sports, said this in Accra when he opened a six-day Fourth African Soil Science Society International Conference on the theme: "Impact of Climate Change; Global Trade; Urbanisation and Biotechnology on Land Use in Africa."
The conference, attended by about 150 participants is discussing the dynamics of land use; local market; global trade and land use patterns; climate change; land management and biodiversity among other topics.
Papa Owusu-Ankomah noted that land use changes associated with agriculture could disrupt the natural balance between the production of biomass and the release of carbon by soil respiration.
He envisaged that the development and implementation of sustainable land and water management practices would contribute significantly to the attainment of food security and environmental health.
"The development of sustainable land management practices should take into account the consequences of the requirements of international trade with its binding conditions; the impact of climate change with potential increase in natural disasters and the prospects of biotechnologies on land use systems and land management techniques."
He asked soil scientists to be vocal and to participate actively in policy formation; norms and standard setting; good agricultural practices with respect to soil science and related issues.
"There is the need for African Soil Science Society to position itself, as a regional broker for land issues within the civil society in Africa and to develop active collaboration particularly with international institutes and networks dealing with soil and land issues and strong lobbying for public and donor's support for more investment in sustainable land management."
Papa Owsu-Ankomah called on Soil Scientists to play a key role in advising decision makers and various stakeholders for the realisation of the African Green Revolution given the strategic importance of fertilizers in achieving the African Green Revolution to end hunger.
The African Union Member States have declared fertilizers both inorganic and organic as strategic goods and have resolved to increase the use of fertilizer from the current average of eight kilograms per hectare to an average of at least 50 kilograms per hectare by 2015.
Professor Dominic Fobih, Minister of Lands, Forestry and Mines, expressed concern about the gap created between researchers, policy makers and end users and noted the importance to bridge the gap for national development.
He explained that research was essential and urged research scientists to ensure that they worked not only in their shells but also in collaboration with end users of their findings.
Prof. Emmanuel Owusu-Bennoah, Director-General of the Council for Scientific and Industrial Research (CSIR), who chaired the function, said the issue of land use and its implications had become topical and the climate change; global trade; urbanisation and biotechnology were at the core in ensuring sustainable development.
He said the challenges of agriculture in the 21st century required systemic integration of the environmental, social and economic pillars of development to meet the needs of the present generation without sacrificing their livelihood for the future.
He called for the formulation of a comprehensive land use plan to ensure that prime agricultural land and other natural resources such as soil, water and forests were protected.